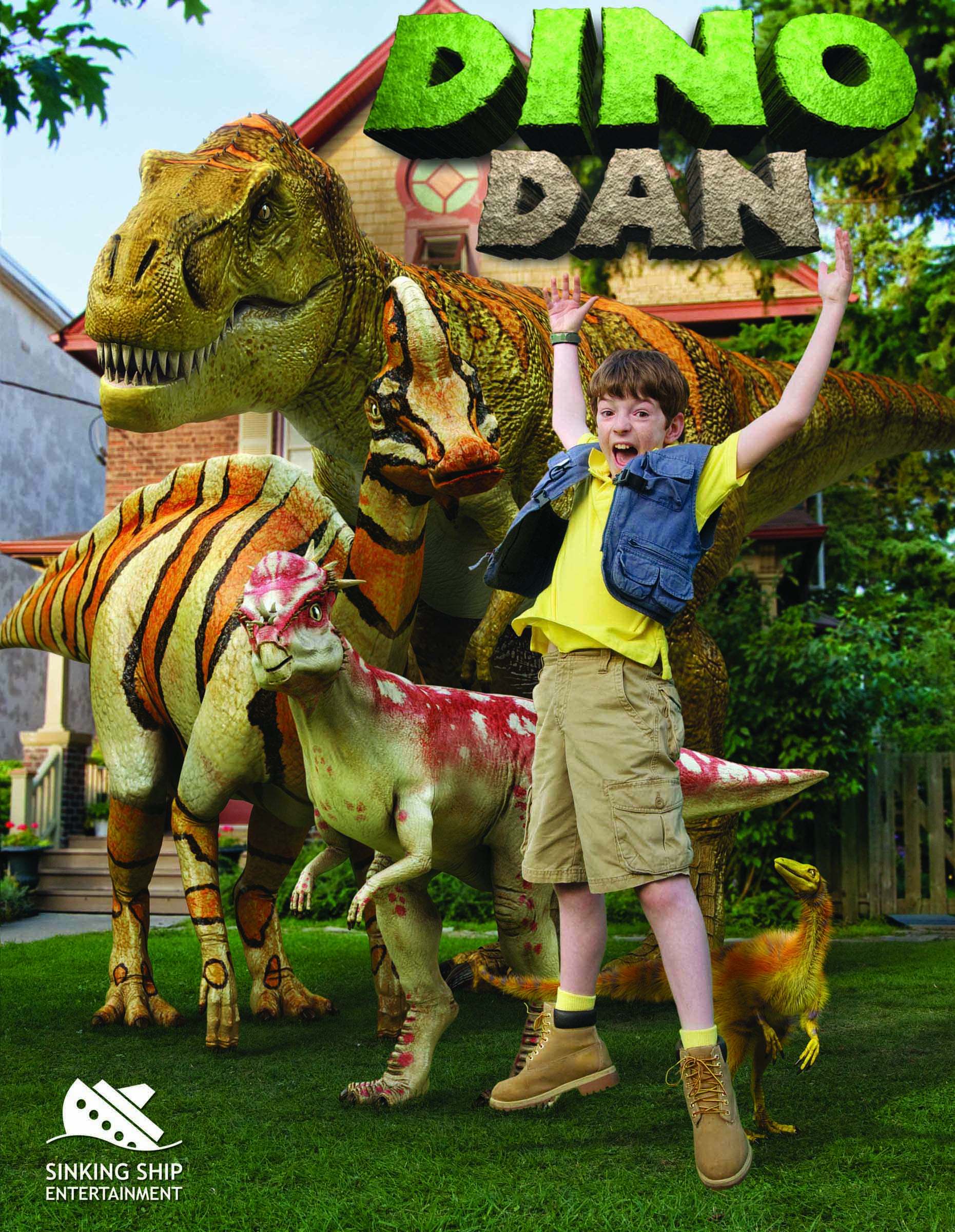 NEW YORK, NY and WILTON, CT: Ruckus Media Group, the global children's digital media company, and Sinking Ship Entertainment, an award-winning production and new media company specializing in live-action programming, today announced a digital partnership under which Ruckus has been granted worldwide English language rights to develop interactive DINO DAN e-books, enhanced e-books, interactive storybooks and story-based applications. The television series DINO DAN – seen in over 100 countries around the world – teaches kids about dinosaurs and how to use scientific methods to identify and solve problems in their everyday lives. The new Ruckus digital storybooks, designed for children ages 4-8, will expand kids' knowledge of dinosaurs and develop their scientific thinking and problem-solving skills as they build their literacy skills. The first three storybooks will be available for mobile devices in April 2012.
DINO DAN airs daily in the U.S. on Nick Jr. and was the most watched debut on the network with over 753,000 kid viewers. In addition, DINO DAN was the #1 episode download for Amazon.com for kids/family programming and has over 3 million YouTube.com viewers.
DINO DAN combines live action with CGI dinosaurs and follows the adventures of dinosaur authority and enthusiast Dan Henderson and his friends as they uncover clues about the secrets of dinosaurs. Sinking Ship Entertainment works closely with the Royal Tyrrell Museum, an internationally recognized public and scientific museum dedicated to the collection, preservation, presentation, and interpretation of paleontological history, to ensure all information in the DINO DAN storylines is authentic.
"We welcome DINO DAN into the Ruckus family of mobile educational entertainment, and look forward to creating digital stories and unique experiences that capture the excitement and wonder of the extremely popular Nick Jr. show and kids' never-ending interest in dinosaurs," says Rick Richter, CEO, Ruckus Media Group.
"We're excited to be working with Ruckus Media to bring DINO DAN fans a new digital experience with this line of e-books and apps," says J.J. Johnson, creator of DINO DAN and a partner at Sinking Ship Entertainment. "These interactive storybooks build on the success of our other digital assets, and help bring the show to life in a fun and educational way."
About Ruckus Media Group:
Ruckus Media Group introduces traditional storytelling for today's ways of telling stories by creating applications for mobile devices that entertain toddlers to teens from their fingers to their minds, at home or on the road—and invite their imaginations to grow. Launched in September 2010, Ruckus is now home to 17 children's interactive storybooks, including the iTunes-bestselling MY LITTLE PONY: TWILIGHT SPARKLE, TEACHER FOR A DAY, based on the ever-popular Hasbro toy characters; Parents' Choice and Mom's Choice award winners SPOT THE DOT by pop-up legend David A. Carter and CHUCK & FRIENDS: FRIENDS FOR THE LONG HAUL; About.com Readers' Choice Award Winner and Best App award finalist A PRESENT FOR MILO, written and illustrated by Mike Austin; THE VELVETEEN RABBIT: TOLD BY MERYL STREEP and other Read-Play-and-Record-Along classic animated storybook apps; and forthcoming projects with Hasbro, Crayola, SeaWorld, The Wiggles, Cyberchase and other beloved brands. For a full listing of titles and additional information, see our website and the Ruckus Media Group iTunes page and follow Ruckus on Facebook and Twitter.
About Sinking Ship Entertainment:
Sinking Ship Entertainment is an award-winning television production and new media company dedicated to creating groundbreaking live-action programming and cross-platform new media content. Sinking Ship has created, produced and directed some of Canada's most successful children's programs to date, including "This Is Daniel Cook," "This Is Emily Yeung," "Roll Play," "Are We There Yet?: World Adventure," "The Ocean Room" and the latest "Dino Dan." Since its inception in 2004, the company has produced 10 series that can be seen in over 130 countries.
# # #
CONTACTS:
For Ruckus Media Group:
Deborah Sloan
978.684.5005 (office)
978.884.4758 (mobile)
For Sinking Ship Entertainment:
Susan Stafford Andi Argast
UNIT:PR Inc. UNIT:PR Inc.
416.506.1238 416.506.1375
susan@unitpr.com andi@unitpr.com