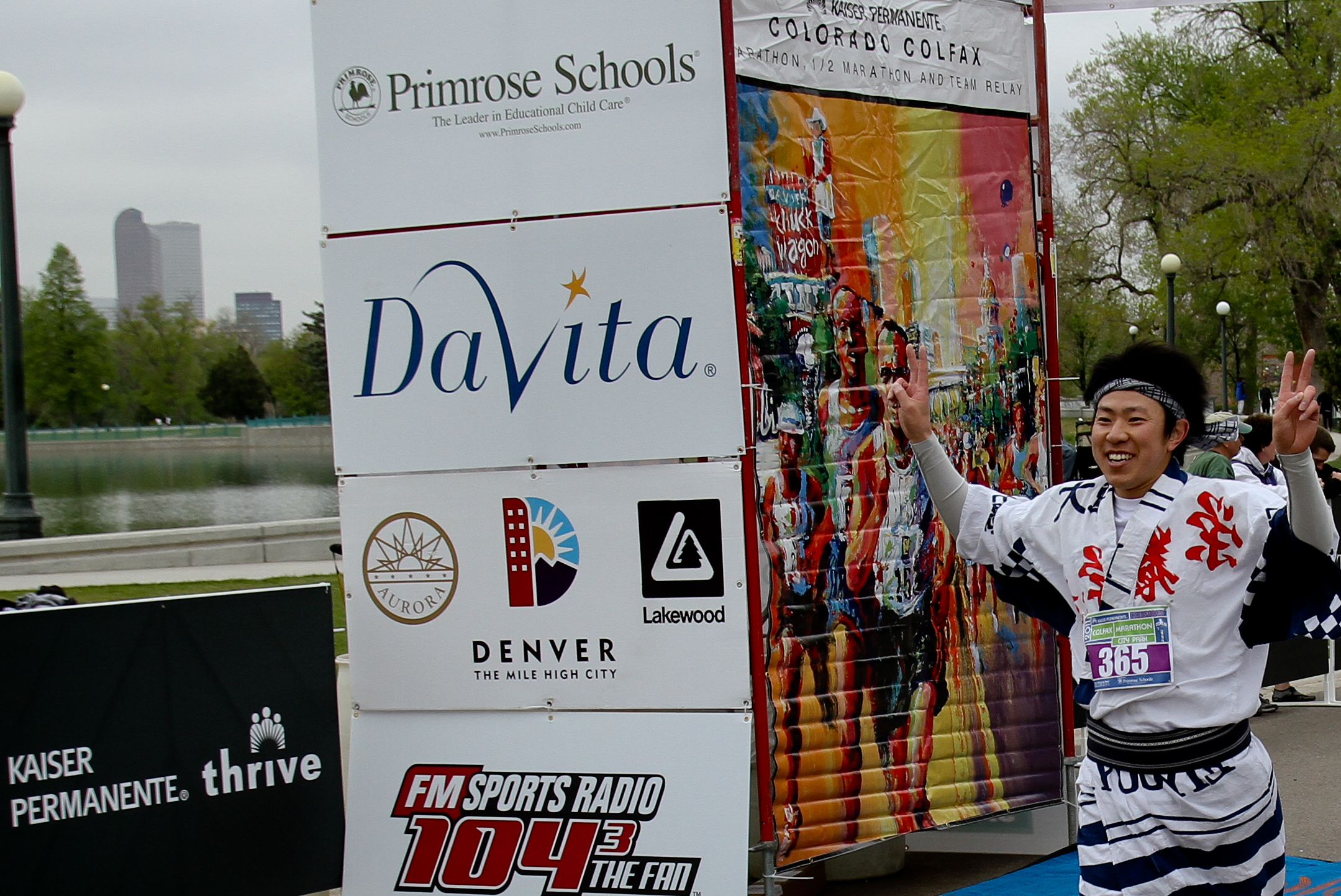 DENVER—The 2012 Kaiser Permanente Colfax Marathon continues to provide one of the country's biggest fundraising platforms for local charities and non-profits through the DaVita Charity Partners Program. Charity Partners recruit runners to participate in the full marathon, half marathon, marathon relay, 5K, or new 10-mile race on May 19 and 20, 2012.
The marathon provides the tools and support to build a successful fundraising campaign where each runner can raise pledges. The best part: the nonprofit keeps 100 percent of the pledges raised.
"The DaVita Charity Partners program is at the core of our race mission to encourage a healthy community in Aurora, Denver and Lakewood," said Andrea Dowdy, Executive Director of the race.
Because the program attracts all levels of runners, the marathon works to provide options, like the Colfax 5K and the new Urban 10-Miler, for less experienced runners.
"Many of these charities are bringing participants to our event who have never run a race before, so our event lineup is designed to provide attainable and realistic goals for those less experienced athletes," said Dowdy.
Charity partners for 2012 range from the Leukemia & Lymphoma Society's Team In Training (TNT), the world's biggest and most successful endurance sports charity training program, to Mile High United Way; from the Colorado Symphony to the Colfax Community Network, providing assistance to families living week to week in Colfax motels.
"With 95 charity partners, we are pleased to say that this puts us among the top marathons in the country in terms of the number of charity partners," said Jean Townsend, DaVita Charity Partners Program Manager.
"At DaVita, we're honored to sponsor the Charity Partner Village at the Colfax Marathon," said Kent Thiry, chairman and CEO of DaVita. "This is all about strengthening our communities. I hope every participant will consider running for charity."
Many charity partners are returning after successful experiences, including the Make-A-Wish Foundation of Colorado, Food Bank of the Rockies, Urban Peak, Colorado Youth for a Change, and Denver Options' Operation TBI, supporting veterans with traumatic brain injuries.
"Last year was our first year participating as a charity partner. We had never done anything like this event before, so it was a totally new experience with wonderful results. Our original goals were to recruit 30 runners and raise $10,000, but we ended up exceeding both those goals. We had 48 runners representing us, and we raised nearly $12,000," said Katie Goulet with Denver Options.
New this year is the High Five Youth Fundraisers program, sponsored by Primrose Schools, encouraging kids to get involved in charity. Kids 12 and under who raise $50 or more for one of our 2012 Charity Partners get a FREE entry to the Bellco Colfax 5K.
The full list of all 95 charity partners can be found at www.runcolfax.org at the Charity Partners tab. Please email jean@runcolfax.org to learn more about participation in the DaVita Charity Partners Program.
About the Colfax Marathon: The seventh annual 2012 Kaiser Permanente Colfax Marathon takes place May 19-20, 2012 and includes the full marathon, half-marathon, marathon relay, and the new Urban 10 miler in addition to the Colfax 5K. Established by the cities of Aurora, Denver and Lakewood to encourage Coloradans to be healthier, the marathon has established itself as an iconic race for the mile-high city. We support local charities and nonprofits by providing one of the country's biggest fund-raising platforms through our DaVita Charity Partners Program. We are proud to partner with corporate sponsors who make our race a success, including: Kaiser Permanente, 9News, The Denver Post, Comcast, 104.3 The Fan, The Denver Athletic Club, Primrose, Jim 'N Nick's BBQ, Primrose, and more.
About Kaiser Permanente Colorado
Kaiser Permanente Colorado is the state's largest nonprofit health plan, proudly working to improve the lives and health of Denver, Boulder, and southern Colorado area residents for 40 years. Kaiser Permanente Colorado provides comprehensive health care services to more than 535,000 members through 21 medical offices and a network of affiliated hospitals and physicians. The health plan was named "Highest in Member Satisfaction" among Commercial Health Plans by J.D. Power and Associates for the third straight year. Kaiser Permanente was also recognized by the National Committee for Quality Assurance (NCQA) as the top-ranked private health plan in Colorado , No. 9 in the nation and one of the top 5 Medicare plans in the U.S. for the second year in a row. In 2009, Kaiser Permanente proudly directed more than $82 million to community benefit programs to improve the health of all Coloradans. For more Kaiser Permanente news, visit kp.org/newscenter or follow us on twitter @kpcolorado or facebook.com/kpcolorado.
About DaVita: DaVita Inc., a Fortune 500® company, is a leading provider of kidney care in the United States, delivering dialysis services to patients with chronic kidney failure and end stage renal disease. DaVita strives to improve patients' quality of life by innovating clinical care, and by offering integrated treatment plans, personalized care teams and convenient health-management services. As of Dec. 31, 2011, DaVita operated or provided administrative services at 1,809 dialysis facilities in the United States, serving approximately 142,000 patients. The company also operated 11 outpatient dialysis centers located in three countries outside the United States. DaVita supports numerous programs dedicated to creating positive, sustainable change in communities around the world. The company's leadership development initiatives and social responsibility efforts have been recognized by Fortune, Modern Healthcare, Newsweek and WorldBlu. For more information, please visit www.davita.com.
###