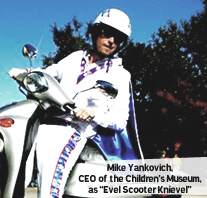 The First Annual Denver Art Scooter Parade will be held in celebration of creativity and the lifestyle of Denver's scooter community on Sunday, May 20, 2012 beginning at 6:00 a.m. in City Park in conjunction with the Kaiser Permanente Colfax Half Marathon.
The event encourages scooter riders to dress up in themed attire and provide entertainment for runners participating in the 13.1 mile half marathon. The parade will run parallel to parts of the course along east Colfax.
"To my knowledge this is the first time a scooter parade has ever been held in conjunction with a major running event and we are very excited about the added entertainment that this will provide for the runners," said Andrea Dowdy, Executive Director of the Kaiser Permanente Colfax Marathon
The Denver Art Scooter parade will include prizes for costume and scooter decorations along with a special skill completion in honor of the late Councilwoman Carla Madison who passed away last summer and was a scooter rider herself.
"As a long time scooter rider I am encouraging my fellow scooter owners to get dressed up, decorate your ride and come scoot with me on Sunday, May 20th. I am extremely excited that this event will be held in City Park and is dedicated to the memory of Carla, as I have been honored to continue to serve the people of her district" said Albus Brooks, Denver City Councilman from District 8 .
Interested riders can sign up to participate at www.runcolfax.org with a $25 entry fee before May 16th. Contact Andrea Dowdy at andrea@runcolfax.org for additional information.