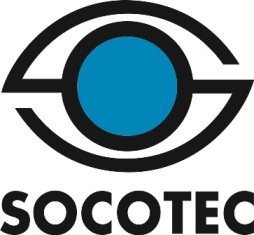 8 December 2011 – Socotec Group, a world leader in inspection, technical assistance, consulting and training services for the construction, real estate, industry and health sectors, has chosen Sage ERP X3 to be deployed across offices in the 30 countries where the group operates. Logica will manage the implementation of the new information system which will be built on Sage ERP X3 V6 and affect 3,000 workstations across Socotec offices in Europe, the Middle East and Africa. The new system will control all the company's business functions, including accounting and finance, customer contract and project management, service operations planning, purchasing management and decision analysis.
An international integrated management solution geared towards local requirements
Socotec is re-engineering its information system in bid to create an integrated solution capable of providing end-to-end business management functionality. The new system will replace homogeneously the many legacy applications operated by the company. It will also help drive the company's growth internationally by offering the flexibility to address the specific accounting, legal, or fiscal constraints of the countries in which the group operates.
Thierry Schindele, Deputy CFO of Socotec Group and ERP Project Leader commented, "The rich functionality of Sage ERP X3, its simple design and user-friendly interface based on graphic processes for each business function, will improve user uptake. As we have a large number of locations and structures throughout the world, this aspect is particularly important to us. Getting our teams up to speed with the new information system will be even easier and quicker and will not require any additional training".
"Another benefit is Sage ERP X3 is so flexible that it can be easily tailored to suit the accounting standards and legal requirements of the country in question," added Didier Desmons, ERP Project Manager. "We would not have had the same flexibility with a 'big ERP' system. We are also very excited to work with Logica, whose international expertise proved to be a major factor in signing the contract, And as the overall cost was particularly competitive, we are convinced that we have made the right decision."
Christophe Letellier, CEO, Sage ERP X3 Worldwide added, "This contract clearly illustrates two things: first, the ability of Sage ERP X3 to meet the requirements of both growing companies and international corporations through a solution with rich functionality, flexible implementation and end-user interface; and second, this contract once against confirms the success of the Sage and Logica partnership in the international rollout of Sage ERP X3."
Patrick Buttin, Director at Logica France commented, "This project perfectly illustrates our successful collaboration with Sage, which is a 'must have' ERP vendor for mid-sized and large businesses, and reinforces our position in the mid-market. Given the Sage ERP X3 implementations we have already undertaken and the relationships we have built, this partnership will continue to be successful."
This contract announcement follows positive financial results for the Sage ERP X3 offering, which has achieved 13% growth in the year. From having its origins in the French market, 38% of Sage ERP X3 revenue is now outside France, in several Sage geographies.
-ENDS-
About The Sage Group plc
Sage is a leading global supplier of business management software and services for small and midsized businesses. The Sage Group plc, formed in 1981, was floated on the London Stock Exchange in 1989 and now employs more than 12,300 people and supports more than 6 million customers worldwide. For further information please visit www.sage.com.
About Sage ERP X3
Sage ERP X3 is a dedicated solution for mid-market and larger companies with international demands enables its clients to transform and perform through technologies. Over 3,000 customers representing 165,000 users worldwide already chose Sage ERP X3 because it is easy to use, fast to deploy and cost effective. For more than 10 years Sage ERP X3 has been a proven and comprehensive ERP solution addressing mid-market company's specific requirements and challenges in various industries from manufacturing, services to distribution and many more. Sage ERP X3 is present in 53 countries and counts a network of more than 1,500 Sage professionals and 200 partners in its ecosystem.

About Socotec
The Socotec Group is an all-round provider of risk management and performance enhancement services in the construction, real estate, industry and health sectors.

Socotec interventions are constantly expanding in scope, in response to new needs and to meet the most varied requirements and the most contrasting situations. They are structured around Inspection, Technical assistance, Consulting, Training and Certification.

The role of our business units is to contribute to our clients' satisfaction by offering them a comprehensive response to the challenges they face regarding risk management through all-round expertise and competence.

- 200 sites in France, including nine training centres
- Group presence in 30 countries
- 5,000 staff, including more than 3,900 engineers and technicians.
- A large portfolio of Official External Certifications.

About Logica
Logica is a business and technology service company, employing 41,000 people. It provides business consulting, systems integration and outsourcing to clients around the world, including many of Europe's largest businesses. Logica creates value for clients by successfully integrating people, business and technology. It is committed to long term collaboration, applying insight to create innovative answers to clients' business needs. Logica is listed on both the London Stock Exchange and Euronext (Amsterdam) (LSE: LOG; Euronext: LOG). More information is available at www.logica.com.

For further Sage ERP X3 media enquiries, please contact:
Sage
Cora Béghin
+33 (1) 41 66 24 82
cora.beghin@sage.com

Juice PR
Shelley Facius
+44 (0) 7802 753653
shelley@juicepr.biz