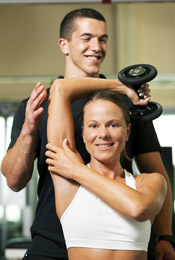 Albuquerque, NM (Pitch Engine) January 23, 2012 Upward Motion Personal Training (UMPT) rolls out its 2012 Albuquerque Corporate Wellness Program. UMPT goes with the business philosophy that businesses that invest in their staff see the dividends of that investment in their employees in better performances, more contribution, and better customer relations. It is a known fact that people that feel better do better, especially when it comes to physical fitness. UMPT offers several corporate wellness programs including the following:
Lunch and Learn – Education program for employees that shows them how to look better, feel better, manage stress, and achieve balance in life and overall personal fitness including physically, mentally, and spiritually.
Lunch and Move Practical Sessions – Information presented to employees they can implement into their current fitness program.
Team Building Boot-Camps – Program that builds employee bonding with one another, builds company morale, and company unity.
Fitness Challenges – Program includes 6 to 12 week company-wide weight loss challenge.
Company's interested in finding out more about the Albuquerque Corporate Wellness program offered by UMPT are encouraged to contact the company to set up an appointment. Appointments include a complimentary lunch for the company and their staff. UMPT comes to your work place to explain the benefits of the UMPT Corporate Wellness program and they provide lunch.
About Upward Motion Personal Training
Upward Motion Personal Training is a personal trainer studio offering customized personal training workout programs, small group training classes, Women's Butt and Gut Classes, Piloxing classes, an on-line store , Corporate Wellness Programs, and Upward Motion Personal Training's Y.E.S. To Success Program. The company's workout studio is located at 336 Adams St SE, Albuqerque, NM 87108
CONTACT:
Upward Motion Personal Training
Founder and Director: Luis Alvidrez
336 Adams St SE
Albuquerque, NM 87108
505-268-1231