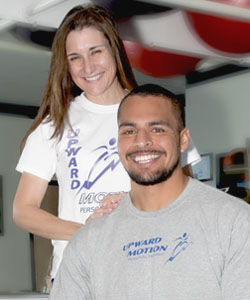 For Immediate Release
Albuquerque, NM (Pitch Engine) December 15, 2011 Upward Motion Personal Training , and Albuquerque based personal training studio, is proud and excited to announce Personal Trainer Luis Alvidrez as one of their premier personal trainers. Luis Alvidrez is the Founder and one of the personal trainers at Upward Motion Personal Training. He has an extensive set of credentials in the personal fitness industry, personal training field, and he has a Bachelors degree in Exercise Science. Luis Alvidrez's personal trainer and educational credentials are as follows:
Graduated Cum Laude with a Bachelors degree in Exercise Science from the University of New Mexico
Graduated with Outstanding Academic Achievement Award
Currently studying in the Graduate Program for Exercise Science at the University of New Mexico
Certified Strength and Conditioning Specialist from the National Strength and Condition Association
Certified Personal Trainer from the National Academy of Sport Medicine
Luis Alvidrez specializes in sports injury prevention, lifestyle management, and corrective exercise. In the Albuquerque area as a personal trainer Luis Alvidrez has a wide variety of clients. This means on a broad level that as personal trainer he can and does work with clients with different body types, different fitness and weight goals, and different issues such as joint pain, and muscular pain. States Luis Alvidrez, "I believe that anybody can achieve whatever they put their mind and heart into. I love being a personal trainer because I get to do just that. Every day I get to wake up and motivate, inspire, coach, heal, and improve someone's quality of life. What more can a person ask for? Being a personal trainer is not just a job to me, it it's my purpose in life."
Personal training in Albuquerque took on a new meaning for Luis Alvidrez when he dedicated his life when he was just 17 years old to getting in shape then applying the same success he had developed in his own life to clients at Upward Motion Personal Training.
About Upward Motion Personal Training
Upward Motion Personal Training is a personal trainer studio offering customized personal training workout programs, small group training classes, Women's Butt and Gut Classes, Piloxing classes, an
on-line store , Corporate Wellness Programs, and Upward Motion Personal Training's Y.E.S. To Success Program. The company's workout studio is located at 336 Adams St SE, Albuqerque, NM 87108
CONTACT:
Upward Motion Personal Training
Founder and Director: Luis Alvidrez
336 Adams St SE
Albuquerque, NM 87108
505-268-1231