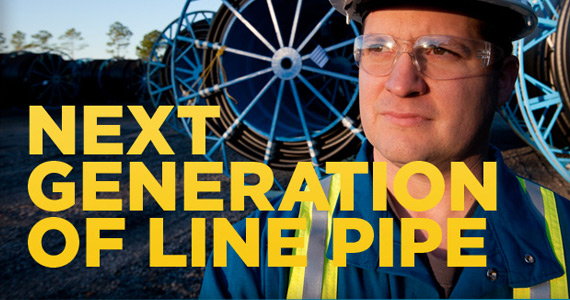 The Business Marketing Association (BMA) Houston Chapter gave top honors to the collaborative rebranding campaign of FlexSteel, an innovative manufacturer of flexible steel reinforced pipe, in the Corporate and Product Identity Category.
Savage, one of Houston's leading branding, marketing communications and design firms, and FlexSteel attended the Lantern Awards of Texas Gala, held on Tuesday, November 15 at the Petroleum Club to receive the Lantern Award.
With a unique, revolutionary and relatively new spool line pipe product, Savage and FlexSteel developed a modern brand that echoed the strength, durability and flexibility of the new product line.
"Our objective was to create awareness and acceptance of the product for new markets that represented significant growth opportunities," said Dahlia Salazar, principal, vice president and creative director with Savage.
The new brand image was extended across a product literature system, online presentations, tradeshow materials, as well as promotion and field materials. In particular, a new website that would appeal to customers who understand the long-term value and performance of the relatively new product led to a strong launch beyond niche markets, increasing website visits by 248%.
"We were surprised by the volume of website hits generated by the newly launched site. The overall traffic far exceeded our expectations, and we are very pleased that it's become the business development tool that it is today," said Brian Anderson, director of marketing with FlexSteel. "We are able to point to its exact tangible impact, and receiving the BMA Lantern Award is a great example."
Established by BMA Houston, the Lantern Awards of Texas has recognized top-quality creative and strategic business-to-business communications for more than two decades. Entries are judged by business-to-business marketing professionals, which evaluate the execution and effectiveness of applied AIDA principles – awareness, interest, desire, and action – among target business audiences. All award-winning entries will be posted on http://www.lanternawards.org.
About Savage
Savage is a Houston-based company that provides branding and marketing communications for corporations and non-profit organizations. With award-winning work, Savage helps companies develop and sustain leadership positions within their industries. Its expertise encompasses branding, marketing, online and social media, sustainability reporting and investor and employee communications. For more information, visit www.savagebrands.com or contact Bethany Haley, president, at (713) 522-1555.
About FlexSteel
FlexSteel is a pipeline solution primarily used in the oil and gas industry that couples the durability of steel with the installation, performance and cost benefits of spoolable pipe products. Highly corrosion resistant and more durable than other flexible pipe, FlexSteel combines the best features of all currently available pipe options to deliver superior life-cycle performance and value. For more information about FlexSteel, please visit www.flexsteelpipe.com.
About BMA
Business Marketing Association is an organization dedicated to serving the needs of business-to-business communicators worldwide and helping them and succeed throughout their business-to-business careers. The Houston Chapter is one of 25 chapters of BMA National with a combined membership of 3,000 professionals.