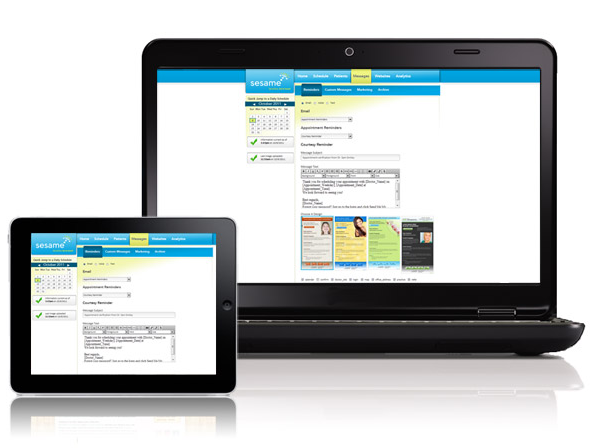 Sesame helps dental practices achieve peace of mind with fewer missed appointments.
According to Medical Group Management Association data, in dental practices the average missed appointment rate is between 18 and 22 percent. This translates into an average loss in revenue of $138,000 per practice, per year, due to missed appointments alone.
Automated reminders do not just remind patients of their appointmentsthey remind patients how important dentistry is to their health. You are also reminding your patients how great your dental practice is and the importance of oral care.
Of practices surveyed, patients unanimously perceived their doctors as high-tech with superior customer service when appointment reminders were customized. Dental practices can show off their Internet savvy and showcase their dental practice brand by reaching out to patients on their terms: electronically. Give your patients the choice of email, text messaging or phone appointment reminders.
Unlike other patient software that requires daily scheduling, your staff only needs to set up your appointment reminders once with Sesame 24-7—we take care of the rest. Appointment reminders are automatically sent when you want, including 1-hour pre-appointment text messages to gently remind patients about their appointments. The result is fewer patients telling you, "I got so busy I forgot." Should patients miss their appointments, we contact those no-shows with an email to reschedule. And when it's time for patients' follow-up appointments, we send an email five months after their last visit to remind them it's time to schedule a new appointment.
Want more? Sesame offers VoIP (Voice over Internet Protocol) to deliver communications via the Internet. Instead of typing up necessary office phone lines, all appointment reminders go out at once! VoIP delivers voice mail appointment reminders effortlessly. You can easily connect with pateints via email, text and voice so your schedule is always full.
Plus as you update your dental practice management software every day, Sesame updates and manages your appointment reminders for existing and new patients.
For more information, visit: http://www.sesamecommunications.com/24-7/patient-reminders.php.