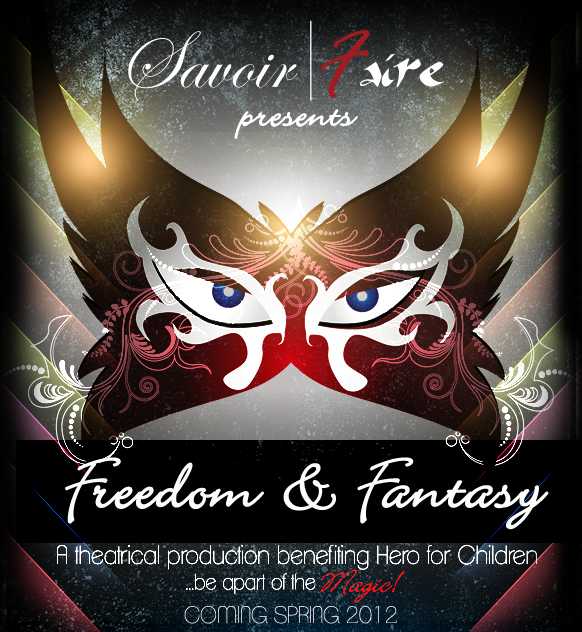 LIGHTS! CAMERA! ACTION!
Atlanta prepare yourself for a production that is sure to set the bar and raise the standard. Coming to the stage… Atlanta's best fashion, design, business, and creative communities have collaborated to present a media and philanthropic driven evening featuring a compilation of theatrical productions and live musical performances choreographed by rising choreographer KristenMychelle, who was a top contestant on BET's Born to Dance and produced by award winning make up professional, Mr. Kelvin Myers, who's work can be seen on BRAVO TV's RHOA, The Braxton's Family Values and The Lion King Stage Play just to name a few.
Saturday, June 30, 2012, SAVIOR FAIRE International and H.E.R.O for Children will debut the theatrical production, Freedom and Fantasy. This multi-purpose star studded event will be held at the historic Atlanta, GA Freight Depot and will certainly serve as the perfect host for over 300 special invited guests to experience, dance, art, song and music during, Freedom and Fantasy.
The dinner theater style atmosphere of Freedom and Fantasy, cushioned in artistic ambience allows guest to be entertained but most importantly educated about the growing numbers of children that are locally affected by HIV/AIDS and their limited quality of care resources. As an on-going effort to raise awareness, promote self-esteem and confidence across the board SAVIOR FAIRE wishes to celebrate and honor Atlanta's local philanthropist, thus, Mrs. Phaedra Parks (Real House Wives of Atlanta) will be presenting the 2012 Philanthropist of the Year award to Mr. Joe Beasley.
This ticketed event will directly benefit the local organization, H.E.R.O for Children who provide services and programs for children affected by HIV/AIDS. Join us in the fight against HIV/AIDS. Support our youth who are already faced with constant adversity by allowing them to explore the endless possibilities of 'Freedom and Fantasy.'
Freedom and Fantasy
Saturday, June 30, 2012 6pm-10pm
GA Freight Depot 65 Martin Luther King Jr. Dr. Atlanta, GA
Ticket Info: www.freedomandfantasybenefit.eventbrite.com
For additional information or for press/sponsor inquiries please contact
Project Manager: Demetria Hines 404-844-9268
Choreographer: Kristen Mychelle www.kristenmychelle.com
Producer: Kelvin Myers www.kelvinmyers.com
H.E.R.O for Children Donna Drakes www.heroforchildren.org