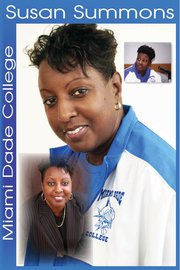 (May 2, 2012 Miami, Florida) Graduating students at Miami Dade College-Kendall Campus heard from several inspiring speakers during their commencement ceremonies Saturday April 28th, including a women's sports pioneer and one of the nation's top motivational speakers. Susan Summons, a renowned sports educator and Miami Dade College Women's Basketball Coach gave the "Reflections Speech" at the 2012 Commencement. Summons took the stage with other leaders including Dr. James Bernard "Bernie" Machen, President of the University of Florda, who offered the keynote, Dr. Eduardo Padron, President of Miami Dade College and Kendall Campus President Dr. Lourdes Oroza.
The Kendall-campus ceremony took place at the Theodore Gibson Center, (Building 7), located on 11011 SW 104th Street, in Miami, Florida.
Summons is a Hall of Fame athlete, author, and sports radio talk show host, whose impact on student success and classroom teaching at Miami Dade College have been recognized by national and local media and several organizations including the National Consortium for Academics and Sports. This year the Lady Sharks Coach was a finalist for the NCAS Giant National Steps Award. The award is offered to top educators and sports professionals who helped make an impact on students' lives.
Known for her charismatic, high-energy delivery, Summons has spoken at numerous events across the world. Last year she was invited by Reverend Jesse Jackson to offer the Keynote Speech during the 40th Annual National Conference of the Rainbow Push Coalition.
"It was an honor to be chosen to speak before graduating seniors at Miami Dade College, said Summons. I love the students here. They have received a stellar education at one of the world's finest, most diverse academic institutions. I hope my speech inspires them to look back on what they've accomplished at MDC and now go forth and fulfill their dreams."
Summons explained why she named her speech Reflections. "We must always remember to reflect, she said. Reflections fuel your motivation, feed your desire, clear your vision and pave the wave for your journey."
Miami Dade College is the nation's largest institution of higher education with an enrollment of more than 174,000 students. The global college enrolls students from 182 countries. MDC graduates more Hispanics and African Americans than any other higher education institution. More than 13,000 students will graduate from the college this year.
MDC Graduations have always been momentous and memorable and the school has a history of seeking out the most sought after speakers. Last year President Barak Obama addressed students at the commencement. The MDC Class of 2012 was addressed by an impressive lineup of other state and national leaders throughout the day including Cecilia Munoz, director of the Domestic Policy Council at the White House, will kicked off the day's ceremonies for InterAmerican and Homestead campuses. Dr. Richard Haass, president and CEO of the Council on Foreign Relations, the nation's most highly respected policy and research group, spoke at the North Campus and MDC West ceremonies; Dr. James Bernard "Bernie" Machen, president of the University of Florida, delivered the commencement address at Kendall Campus; Dr. Judith Rodin, president of the Rockefeller Foundation, addressed the graduates of the Wolfson and Hialeah campuses; and The Honorable Jennifer Carroll, Florida's Lieutenant Governor, spoke to Medical Campus graduates. The commencement speakers will drew on extensive life experiences to deliver inspiring and timely addresses.
To Interview Coach Susan Summons:
Contact She Got Game Media (914) 572-3671