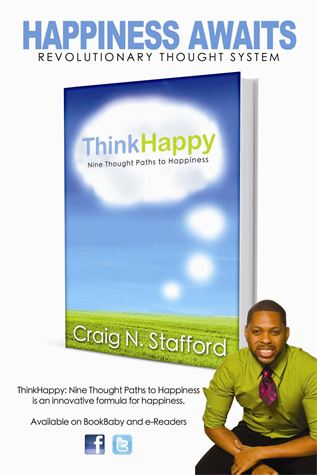 Martin Luther King Jr. said 'Forgiveness is not an occasional act, it is a constant attitude.' Author Craig Stafford aka The Think Happy Guru is sharing the power to forgive through his personal testimony:

I am currently 32 years old. My father spent 24 of my 32 years of living in prison-maximum security. I felt fatherless with deep rooted pain, hurt and hate. I was destroying myself by holding on to those emotions and realized I had to let it go. So, I forgave my father and forgave myself. Our relationship isn't perfect, but I love him for who he is now, not who he was then.

Forgiveness Challenge/ Q&A
Q: How were you able to forgive?
A: I was able to forgive using one powerful key- focus on self
Q: What does it mean to focus on self?
A: It means you value the worth of who you are more than the pain the other person caused. Forgiveness is the ultimate act of kindness you can give yourself. Forgiveness is like decadent treats to the soul and emotional wealth to the spirit.

3 STEPS TO LETTING GO
1. Acknowledge the hurt and the person(s) who hurt you fully by saying:
I acknowledge that ___________ (speak the person(s) name) hurt me when they _____________ (speak what they did).
2. Express what their actions did to you mentally and emotionally by saying:
When you ______________ (speak what they did) it made me feel ____________________ (speak how it made you feel)
3. Use your experience to become a better person by saying:
Even though _______________ (speak person(s) name) did _______________ (speak what they did) I will not let that define who I am. I am strong, courageous and worthy of living a happy life. I forgive you for ______________ (speak what they did) and I let it go.

Are you having trouble forgiving? Acknowledgment is the first step toward releasing the burden. Visit Think Happy Guru on Facebook or on the website morelifelab.com to submit your Forgiveness Testimony and Pick up Think Happy: 9 Thought Paths to Happiness for more tips and testimony for living a positive, happy life.

Craig Stafford is the author of the E-book, "Think Happy: 9 Thought Paths to Happiness," available on amazon.com and the nook.com. The "Think Happy Guru" also offers a Manifesting Happiness Workshop.

To interview Craig Stafford or book him for speaking appearances contact She Got Game Media. (914) 572-3671.