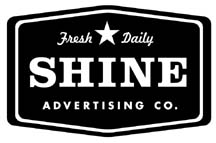 Shine Advertising Co. has been named agency of record for Markel American Insurance Company, a specialty insurer focused on niche products such as motorcycles, boats, ATVs, UTVs, snowmobiles, personal watercraft and event cancellation and liability.
"We were looking for a partner who was creative, daring, not afraid to push the envelope, and knew how to move the needle," said Ted Wentzel, director of marketing. "Shine has a proven track record of creating dynamic, high-performance campaigns for active brands, and we are very excited about our new partnership."
Shine was hired after a formal agency review process, and has been tasked with a brand repositioning revamp that will include marketing and brand strategy, traditional media, digital, public relations, social media and promotion components.
"In the past couple of years, competitors in the insurance industry have really stepped up their game," said Curt Hanke, Shine co-founder and principal. "We are very excited about this new relationship — to help Markel carve out its own unique space in a very crowded category, fueling their growth with consumers in a wide range of niche categories."
About Shine Advertising Co., LLC
Shine is a $32 million advertising, design and interactive agency located in Madison, Wisconsin. The privately held company's client roster includes national consumer brands, such as Harley-Davidson, Carver Yachts, Wisconsin Cheese and Winston Fly Rods. Shine is creatively driven, results focused and dedicated to building passion between people and brands. Learn more at http://www.shinenorth.com. Shine on.
About Markel
Markel Corporation markets and underwrites specialty insurance products and programs to a variety of niche markets. In each of these markets, the Company seeks to provide quality products and excellent customer service so that it can be a market leader. The financial goals of the Company are to earn consistent underwriting profits and superior investment returns to build shareholder value. For more information on the Markel Group of companies, please visit http://www.markelcorp.com.
# # #