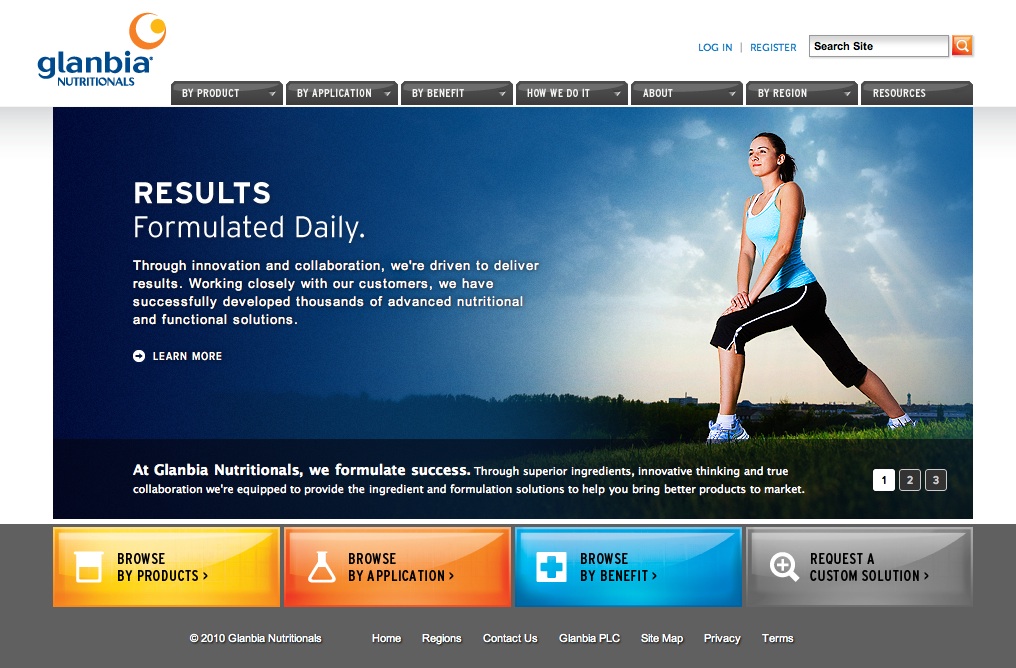 MADISON, WI ? Shine Advertising has developed a new brand platform for
Glanbia Nutritionals
, a leading provider of nutritional and functional ingredients for foods, beverages, nutrition bars and supplements including whey-derived, customized vitamin and mineral premix and Omega-3 solutions. The brand platform was revealed at the Institute of Food Technologies Annual Meeting and Food Expo in Chicago on July 17, and includes a
new website
, an interactive trade show experience and additional creative elements that reflect Glanbia Nutritionals' unified global brand identity.
Faced with the challenge of uniting three unique business units operating under different names, operating models and marketing strategies, Shine interviewed more than 25 internal stakeholders in Glanbia Nutritionals' executive, business development, research and development, sales and international divisions. In addition, the agency conducted a comprehensive analysis of marketing strategies and customer research to position Glanbia Nutritionals as a complete solutions provider of advanced nutrition and functional value-adding benefits for a wide range of food, beverage, supplement, cosmetic and animal nutrition applications.
"Together, we've developed a highly integrated brand and marketing platform that sets the table for our continued global growth," said Glanbia Nutritionals' Marketing Manager Eric Borchardt. "We needed a hardworking, unified brand platform that reflected the ambitions of our organization, and Shine delivered."
"Merging three very different global brands into a single brand is the kind of challenge that excites us and we're very proud of this work," added Curt Hanke, co-founder and account director at Shine. "It's been fantastic partnering with the Glanbia Nutritionals team and we're excited to continue to build upon this new platform."
About Glanbia Nutritionals
Glanbia Nutritionals is a division of Glanbia plc, a leading international cheese and nutritional ingredients group, headquartered in Kilkenny, Ireland. Glanbia plc is Ireland's largest dairy processor and has 4,300 employees, with operations in Ireland, Europe, USA, Canada and China, and joint ventures in the UK, USA and Nigeria. Glanbia Nutritionals delivers science- and service-led nutritional and functional ingredient solutions to an extensive global customer portfolio.
About Shine Advertising Co., LLC
Shine is a $30 million advertising, design and interactive agency located in Madison, Wisconsin. The privately held company's client roster includes national consumer brands, such as Harley-Davidson, Carver Yachts, Wisconsin Cheese and Winston Fly Rods. Shine is creatively driven, results focused and dedicated to building passion between people and brands. Learn more at www.shinenorth.com. Shine on.