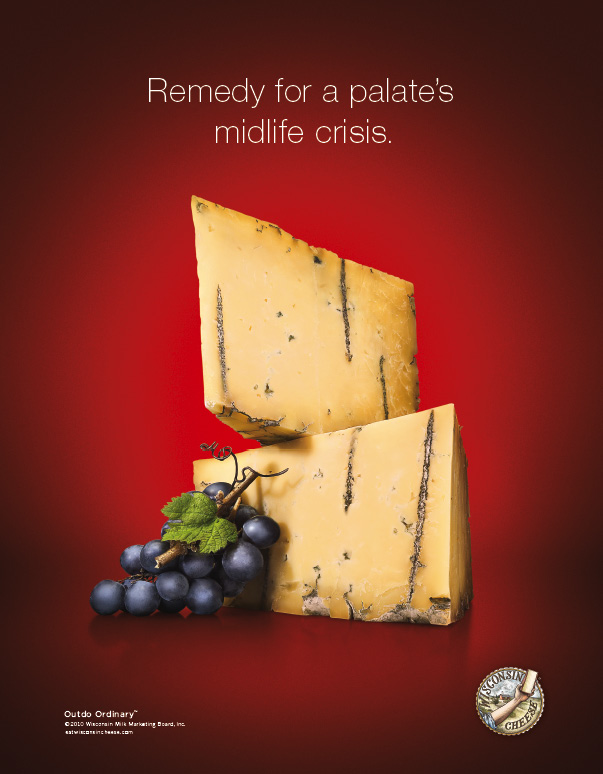 MADISON, WIS.

The Challenge:
Wisconsin Cheese is among the most acclaimed cheese in the world, often winning more awards than its American and European counterparts combined. Yet research implied that Wisconsin Cheese, as a brand, was not getting the respect it rightfully deserves. With a relatively low share of voice compared to other U.S. cheese brands, Shine knew it would take truly impactful creative to continue advancing perceptions and top-of-mind awareness of the Wisconsin Cheese brand.

Solution:
Allow consumers to see Wisconsin Cheese from a new perspective - as the artisan food that it is, crafted by the some of the world's best cheesemakers. As an evolution of the 2009 campaign, these ads continue to use bold, graphic imagery of some of Wisconsin's most desirable cheeses. Add to that the sophisticated type, playful headlines, and "Outdo Ordinary" tag line, and these ads truly tell the Wisconsin Cheese story: amazingly delicious.

Work:
Building on the success of Shine's 2009 campaign, these ads continue to speak of Wisconsin Cheese as it is - artful and delicious. The campaign features bold yet simple images showing four iconic Wisconsin cheeses. Equally simple headlines, such as "Spoil your tongue" and "Make a cracker smile," maximize both stopping power and engagement with the brand. Full-page ads are appearing in prominent food and lifestyle publications including Saveur, Fine Cooking, and Food & Wine.

Brag:
"Simply delicious," said Mike Kriefski, creative director at Shine. "That has been our two-word creative brief since winning this business back in 2008. This campaign continues to show Wisconsin Cheese for what it is - beautiful and unique, delicious and desirable."