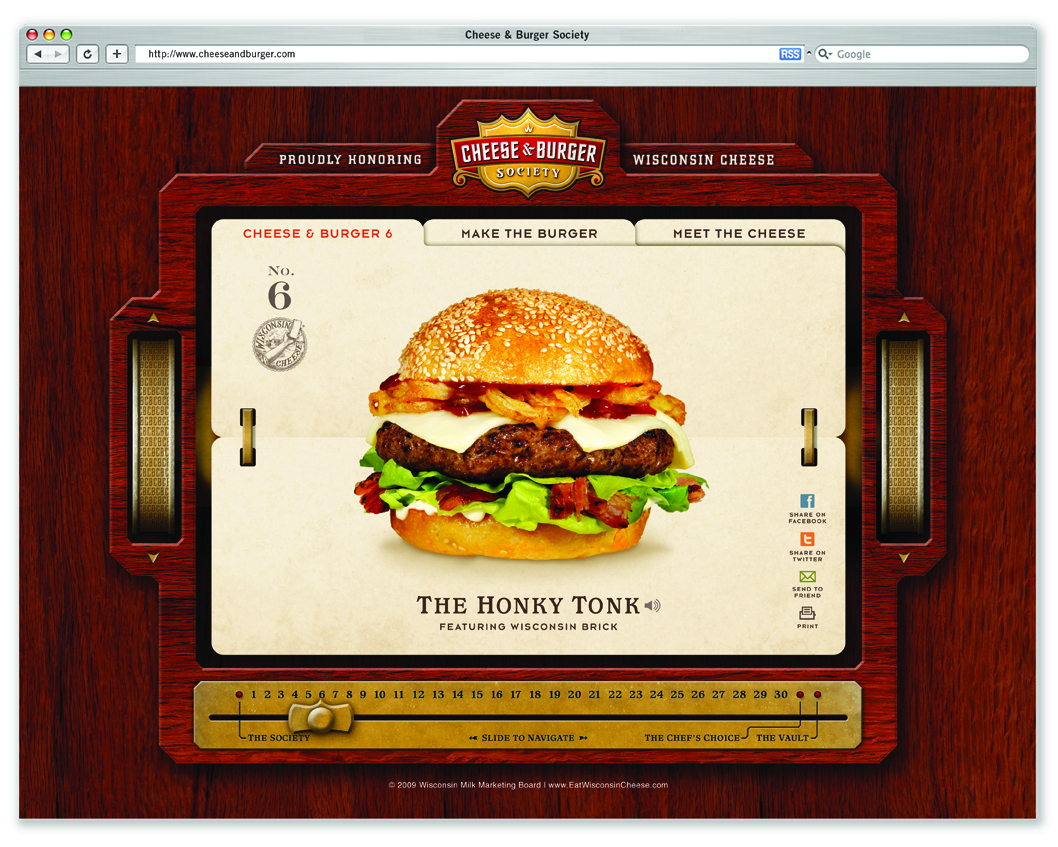 MADISON, WI - When Shine Advertising Co. was developing a microsite to promote Wisconsin Cheese, it had a hunch cheeseburgers would be the way to America's heart. An instant cult classic for cheeseburger fans, http://www.cheeseandburger.com has been nominated for Best Food and Beverage Site in the 14th Annual Webby Awards, one of the online world's highest honors and the leading international award honoring excellence on the Internet. Cheese & Burger Society is nominated in the Food & Beverage category, alongside work by some of the advertising industry's biggest names.

The Cheese & Burger Society launched in July, 2009; this tongue-in-cheek web destination features 30 supremely delicious cheeseburgers, all made with Wisconsin Cheese, with a smooth and creamy voiceover by a popular Hollywood celebrity. The site showcases a monthly "Chef's Choice" cheeseburger contributed by a Wisconsin Cheese Chef Ambassador and is supported by a Facebook Fan Page with more than 65,000 fans. Prior to being nominated for a Webby Award, http://www.cheeseandburger.com was selected as an FWA "Site of the Day."

"Nominees like Shine's Cheese & Burger Society are setting the standard for innovation and creativity on the Internet," said David-Michel Davies, executive director of the Webby Awards. "It is an incredible achievement to be selected among the best from the nearly 10,000 entries we received this year."

"We knew cheeseburgers were the way into America's heart-they're a pivotal part of our collective culture," said Mike Kriefski, creative director at Shine Advertising. "When we set out to build the online experience, we wanted to showcase the iconic nature of Wisconsin Cheese; being nominated for a Webby illustrates the site's a big hit with both online consumers and digital tastemakers."

As a Webby Awards nominee, http://www.cheeseandburger.com is also eligible to win a Webby People's Voice Award, which is voted for online by the global Web community. From now until April 29, Cheese & Burger Society fans can cast their votes in the Webby People's Voice Awards at http://webby.aol.com/marketplace/food_and_beverage.

Winners will be announced on May 4, 2010 and honored at a ceremony in New York City on June 14. The Webby Awards is presented by the International Academy of Digital Arts and Sciences, a 650-person judging academy whose members include Internet co-inventor Vint Cerf, R/GA's Chief Bob Greenberg, Simpson's creator Matt Groening, Arianna Huffington, and Harvey Weinstein.

In addition to Shine Advertising Co.'s Webby Awards nomination for http://www.cheeseandburger.com, the agency's cheese pairing website, Cheese Cupid (http://www.cheesecupid.com), has been named an official Webby "Honoree" in the Best Navigation/Structure category. Shine hopes for another set of nominations in 2011 with its launch of the Grilled Cheese Academy (http://www.grilledcheeseacademy.com), a site dedicated to grilled cheese fans worldwide.

About Shine Advertising Co., LLC
Shine is a $27 million advertising, design, and interactive agency located in Madison, Wisconsin. The privately held company's client roster includes national consumer brands such as Harley-Davidson, Carver Yachts, Wisconsin Cheese, and Winston Fly Rods. Shine is creatively driven, results focused, and dedicated to building passion between people and brands. Learn more at www.shinenorth.com. Shine on.

About the Webby Awards
Hailed as the "Internet's highest honor" by the New York Times, the Webby Awards is the leading international award honoring excellence on the Internet, including websites, interactive advertising, online film and video, and mobile websites. The Webby Awards was established in 1996; the 13th Annual Webby Awards received nearly 10,000 entries from all 50 states and more than 60 countries worldwide. Learn more at http://www.webbyawards.com.