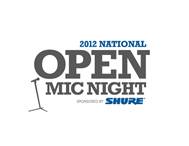 NILES, Ill., April 9, 2012—In celebration of the Company's 87th Anniversary on April 25, Shure Incorporated announced today its inaugural National Open Mic Night, a week-long observance that will unite and encourage singers, musicians, and spoken word artists to take the mic and perform at venues across the United States from Sunday, April 22, to Saturday, April 28. A total of 23 bars, restaurants, and coffee shops, from New York City to Chicago to Los Angeles, have confirmed their participation.
"We hope this event becomes an annual occurrence that serves as a great way for us to commemorate our Company's anniversary," said Terri Hartman, Director of Marketing Communications for Shure Americas. "Our goal is to bring together artists and venues in a cohesive way, and to celebrate their talent."
Each participating venue will receive a "mic locker," which includes SM58 and SM57 microphones to be used for these events, and a marketing/promotional "tool kit." Shure also will work closely with the venues to promote their events.
Participating Venues:
50 Mason Social House—San Francisco
B.D. Riley's Irish Pub—Austin, Texas
Broad Street Café—Durham, N.C.
Canter's Kibitz Room—Los Angeles
Commodore Grille—Nashville
Ireland's 32—San Francisco
Jack Sprat Café—Chapel Hill, N.C.
Java Cabana—Memphis, Tenn.
Lincoln Tap Room—Chicago
Lizard Lounge— Boston
Mandolin—Tacoma, Wash.
Midway Café—Boston
Molly Maguire's—Seattle
Nuyorican Poets Café—New York City
P.A.'s Lounge—Boston
Skylark Café—Seattle
The Bluebird Café—Nashville
The Sidewalk Café—New York City
The Starry Plough—Berkeley, Calif.
Three Friends Coffeehouse—Portland, Ore.
Train of Thought—San Diego, Calif.
Uncommon Ground—Chicago
Un-Urban Coffee House—Santa Monica, Calif.
For additional details or information about local venues participating in Open Mic Night in your area, visit www.shure.com/nationalopenmicnight.
About Shure Incorporated
Founded in 1925, Shure Incorporated (www.shure.com) is widely acknowledged as the world's leading manufacturer of microphones and audio electronics. Over the years, the Company has designed and produced many high-quality professional and consumer audio products that have become legendary for performance, reliability, and value. Shure's diverse product line includes world-class wired microphones, wireless microphones and in-ear personal monitor systems, headphones for performers, presenters and recordists, award-winning earphones and headsets for use with MP3 players and smart phones, and top-rated phonograph cartridges for professional DJs. Today, Shure products are the first choice whenever audio performance is a top priority.
Shure Incorporated corporate headquarters is located in Niles, Illinois, in the United States. The Company has additional manufacturing facilities and regional sales offices in China, Germany, Hong Kong, Japan, Mexico, The United Kingdom, the Netherlands, Denmark, and the United States.