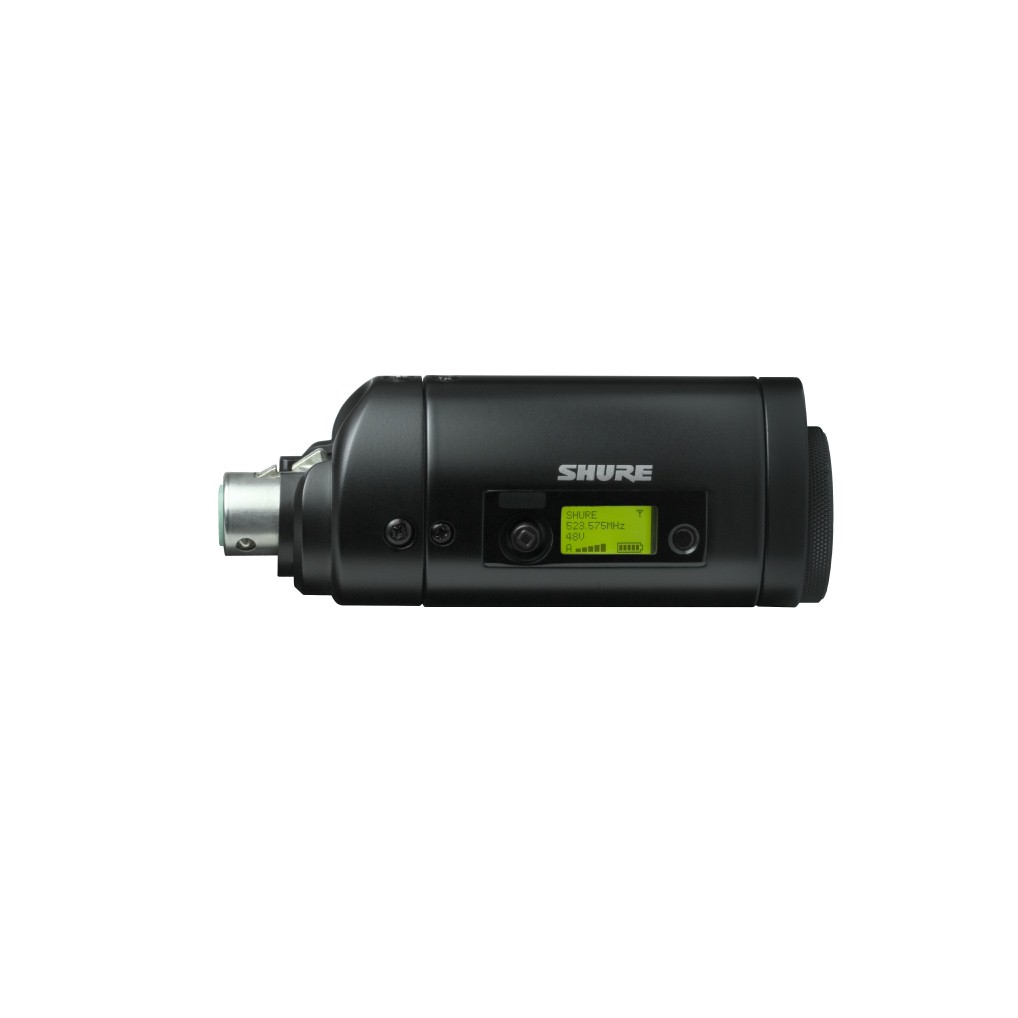 NAB (Booth #C1610), LAS VEGAS (April 16, 2012)— Shure Incorporated is now shipping the UR3 Plug-on Transmitter, a complement to the Company's UHF-R Wireless Systems. The UR3 offers premium wireless audio technology to the broadcast and media production industries by combining the best of Shure UHF-R features with the flexibility and durability required for professional broadcast-quality performance.
"When we set out to make the UR3, we didn't want to make just another plug-on transmitter, says Erik Vaveris, Category Director for Wireless Products at Shure. "We saw a need for improved ergonomics and more intelligent set up features. The UR3 provides a better experience for the talent and field production professionals. Once you produce incredible audio and great RF, all that's left to do is make people's lives easier," Vaveris adds.
Shure's first plug-on transmitter, the UR3, enables any wired XLR microphone to become wireless. It features a comfortable, ergonomic design for ease of handling during interviews and news gathering. Additional features such as a sweepable high-pass filter and 48V phantom power make it extremely versatile for broadcast and media production applications.
"We designed the UR3 with today's professionals in mind," Vaveris says. "Programmable microphone ID lists enable the user to tailor settings - such as gain and phantom power – for each microphone for quick recall."
The new Shure UHF-R portable components revolutionize function and flexibility, providing field production professionals with Shure's unparalleled sound quality in a portable solution.
Unique features of the UR3 Plug-on Transmitter include:
Smart, ergonomic industrial design for ideal handling
Provides+12/+48V phantom power off of two AA batteries
Selectable mic/line input
Sweepable high-pass filter (40Hz – 240Hz)
Microphone Preset List can be programmed to tailor settings (gain/phantom power/high-pass filter, etc.); program and store up to 10 microphone ID lists
Compatible with Axient receivers (RF and IR features only)
Pricing and Availability
The UR3 Plug-on Transmitter is now available, at an MSRP of $1249. For more information, visit Shure at NAB 2012 booth C1610 or www.shure.com.
About Shure Incorporated
Founded in 1925, Shure Incorporated (www.shure.com) is widely acknowledged as the world's leading manufacturer of microphones and audio electronics. Over the years, the Company has designed and produced many high-quality professional and consumer audio products that have become legendary for performance, reliability, and value. Shure's diverse product line includes world-class wired microphones, wireless microphones and in-ear personal monitor systems, headphones for performers, presenters and recordists, award-winning earphones and headsets for use with MP3 players and smart phones, and top-rated phonograph cartridges for professional DJs. Today, Shure products are the first choice whenever audio performance is a top priority.
Shure Incorporated corporate headquarters is located in Niles, Illinois, in the United States. The Company has additional manufacturing facilities and regional sales offices in China, Germany, Hong Kong, Japan, Mexico, The United Kingdom, the Netherlands, Denmark, and the United States.
# # #