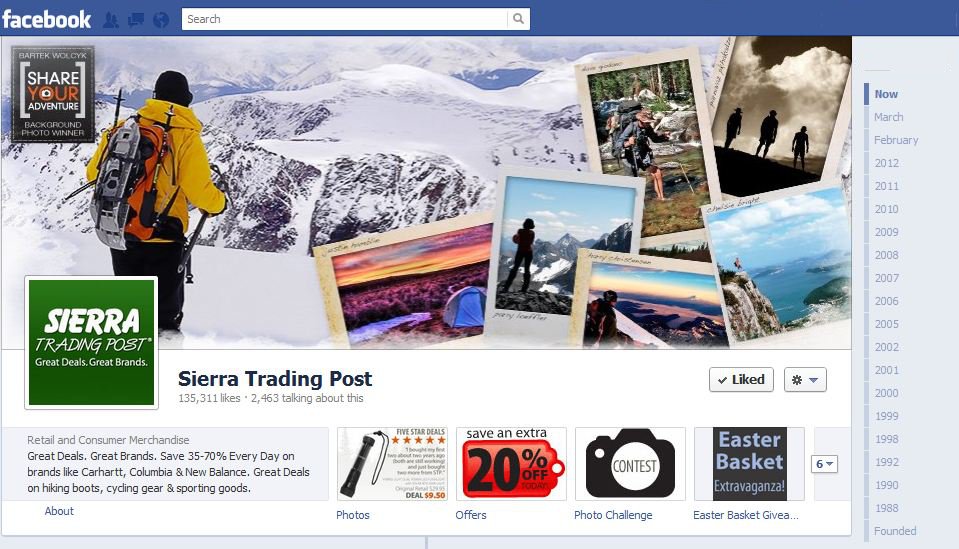 Cheyenne, Wyo., March 30, 2012 – Sierra Trading Post, known worldwide for great deals on great brands, recently unveiled its new Facebook Timeline. Merging the company's profile and Facebook wall into one seamless page, Timeline provides fans and page visitors with a more visually appealing presentation and enhanced user experience.
With new features, including a large cover image and separate sections for wall posts, apps and status updates, the all-new Sierra Trading Post Timeline allows users and visitors to view highlights and key moments in the company's history, all on one page. A reverse chronological Timeline key on the right-hand side of the page also makes it easy for visitors to quickly navigate to important milestones dating back to the year Sierra Trading Post was founded, 1986.
"Timeline creates a more engaging experience, and allows us to share our company's rich history with our Facebook fans in a more meaningful and visual way," says Juliette Rule, PR and Community manager at Sierra Trading Post. "We're very pleased with Facebook Timeline, and we hope our fans will enjoy the new layout of our page."
In addition to launching Timeline, Sierra Trading Post has also added a new feature to its website that allows fans to download customized, preformatted cover art for their personal Facebook Timelines, as well as for their Twitter page backgrounds. The art has been created from winning Share Your Adventure Photo Contest entries and includes the fan's photo credit. The images can be downloaded on Sierra Trading Post's About Us page.
"We've had very positive feedback from the community on our photo contest, and we're excited to provide those fantastic images to our customers to use on their personal Timelines and Twitter backgrounds," says Beren Goguen, Social Media Content specialist at Sierra Trading Post.
To see the new Sierra Trading Post Timeline, please visit: http://www.facebook.com/sierratradingpost.
About Sierra Trading Post - Headquartered in Cheyenne, Wyo., Sierra Trading Post is a Top 100 Internet retailer known across the globe for offering "Great Deals. Great Brands." Sierra Trading Post purchases overstocks, closeouts and 2nds from more than 2,000 brand names, and offers customers 35-70% savings every day. Founded in 1986, the company has saved customers more than $3.5 billion off retail prices on outdoor gear, shoes, clothing, accessories and home furnishings. Sierra Trading Post has four outlet stores in Boise, Idaho; Reno, Nev.; Cheyenne and Cody, Wyo. as well as a Technology Campus in Fort Collins, Colo.