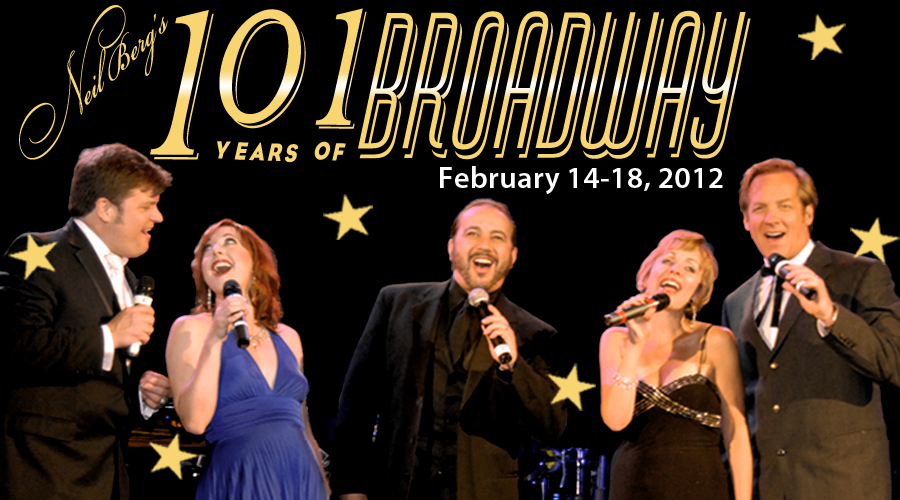 Rob Evan, Rita Harvey, Danny Zolli, Carter Calvert and Steve Blanchard in Neil Berg's 101 Years of Broadway. Photo: John Bruno

Rob Evan, Rita Harvey, Danny Zolli, Carter Calvert and Steve Blanchard in Neil Berg's 101 Years of Broadway. Photo: John Bruno
SAN JOSE, Calif. (Dec. 22, 2011) -- Direct from the Big Apple, Neil Berg's 101 Years of Broadway features a dazzling cast of five Broadway stars accompanied by an all-star New York band, coming to San Jose Rep February 14 - 18, 2012.
This acclaimed musical revue recreates the greatest moments from the finest Broadway shows of the century, featuring the actual stars of musicals such as The Phantom of the Opera, Dreamgirls, Into the Woods, Les Miserables, and Jekyll & Hyde. These amazing performers light up the stage with songs from the Broadway classics and the latest hit shows in which they've starred. It's a magical experience you'll always remember!
Tickets go on sale today for San Jose Rep subscribers. Single ticket sales to the public will begin January 3, 2012. This star-studded musical revue also makes the perfect unique Valentine's date with San Jose Rep's special Table for Two Valentine's Package. Tickets are available at the San Jose Rep Box Office at 101 Paseo de San Antonio or can be purchased online at www.SJRep.com or by calling 408.367.7255.
"This revue features some of the best songs from the Broadway musicals, all sung by some of the most talented performers working today singing many of the hit songs that they have sung on Broadway."
- Jerry Friedman, Entertainment Critic, KGO (ABC radio) San Francisco.
PERFORMERS
Neil Berg is the composer/lyricist of the hit Off-Broadway musical The Prince and the Pauper, which ran for two years at the Lambs Theater in New York City. The New York Times raved "(Berg's) music soars on Angel's wings." Neil is currently the composer for the new Broadway-bound musical Grumpy Old Men, based on the Warner Brothers movie classic starring Jack Lemmon and Walter Matthau, which will begin its out of town tryout at the Manitoba Theater in Winnipeg in October 2011.
Ron Bohmer(Ragtime, Phantom of the Opera, The Scarlet Pimpernel) Ron Bohmer has starred on Broadway and national tour as the Phantom in Phantom Of The Opera, Joe Gillis in Sunset Boulevard (Jefferson Award nomination), as The Scarlet Pimpernel (National Broadway Theatre Award nomination), Alex in Aspects Of Love (LA Robby award), the evil Sir Percival Glyde in The Woman in White, Enjolras in Les Miserables, Fyedka in Fiddler on the Roof and as Coach Bolton in the cultural phenomenon Disney's High School Musical. He most recently starred on Broadway as Father in the critically acclaimed revival of Ragtime, a role he originated at the Kennedy Center.
Saundra Joseph (Christine, Phantom of the Opera) Sandra Joseph grew up in Detroit and attended Michigan State University before relocating to New York City to pursue a career on Broadway. Sandra played the coveted role of Christine Daae, the female lead in The Phantom of the Opera, on Broadway and all across the country to critical acclaim. She has the distinct honor of being Phantom's leading lady on Broadway longer than any other actress in the show's twenty-two year history. Sandra is currently writing a memoir entitled "Phantom Girl" about her journey from Detroit to Broadway and the decade she spent in Broadway's most successful show.
Chuck Wagner (Into the Woods, Les Miserables, Beauty and the Beast) Performed on Broadway as Athos in The Three Musketeers, Rapunzel's Prince in the original Broadway cast of Stephen Sondheim's Into the Woods, Javert in Les Misèrables, Van Helsing in Dracula and as "The Beast" in Disney's Beauty and the Beast (which he premiered at Toronto's Princess of Wales Theatre). Wagner originated the title roles in Frank Wildhorn's Jekyll & Hyde and Svengali at Houston's Alley Theatre and reprised his dual roles in Jekyll & Hyde in the post Broadway international tour. He also toured as the Wolf and Cinderella's Prince in the U.S. tour of Into The Woods and as the MacArthuresque General Harrison Howell in the revival of Cole Porter's classic Kiss Me Kate. He sang the role of Sir Percival Blakeney in the original concept recording of Wildhorn's The Scarlet Pimpernel.
Andrea Rivette (Miss Saigon, Jekyll and Hyde) Andrea Rivette just completed an amazing two month run as Betty Haynes in Barksdale Theater's production of Irving Berlin's White Christmas in Richmond, Virginia! She is thrilled to be a part of the Neil Berg family once again this season! Broadway credits include Emma Carew in Jekyll and Hyde, starring David Hasselhoff (performance filmed for HBO and DVD), and Ellen in Miss Saigon. She has had the opportunity to perform in many concerts nationwide as well as star in the Equity National tours of Miss Saigon as Ellen and Jekyll and Hyde as Emma Carew, starring Chuck Wagner.
Lawrence Clayton (Dreamgirls, Civil War, It Ain't Nothin' But the Blues) Lawrence Clayton is an accomplished singer/actor whose talents have been featured on and off Broadway. His most recent New York appearance was as Montel/Jesus in Jerry Springer the Opera at Carnegie Hall. Broadway appearances include Bells Are Ringing, It Ain't Nothin but the Blues, The Civil War, Once upon a Mattress, High Rollers Social Pleasure Club, and Dreamgirls.
Regularly priced tickets for 101 Years of Broadway ranges from $29 - $69 with students tickets priced from $10 - $34.50. Seniors and teachers receive $6 off the ticket price.
TABLE FOR TWO VALENTINE'S PACKAGE
San Jose Rep is offering a special Table for Two Package in honor of Valentine's Day. For just $99, you can treat yourself and your loved one to an exclusive theatre experience at San Jose Rep for any performance of 101 Years of Broadway. The Table for Two Valentine's Package includes a half-bottle of wine and Schurra's chocolates at a reserved table in our intimate Patron Lounge before the show, then take a seat for a performance of 101 Years of Broadway. (Only available over the phone or in person at the Box Office. Some fees may apply, maximum of 8 packages are available per performance, choice of red or white wine upon purchase of package. Cannot be combined with other discounts or offers.)
PRAISE FOR NEIL BERG'S 101 YEARS OF BROADWAY
"The Great White Way stretched all the way to Bass Performance Hall Wednesday night via Neil Berg's 101 Years of Broadway – a breezy, sprawling revue that romped gleefully through the American musical theater's greatest hits. Cole Porter, George Gershwin, Rodgers and Hammerstein, Leonard Bernstein, Andrew Lloyd Webber, Frank Loesser and (reflecting recent trends on Broadway) Billy Joel and Frankie Valli among many others, all got the nod. The three men and two women carrying the vocal load boasted impressive musical stage credentials, and the all lived up to their bios. "
– Punch Shaw, Ft. Worth Star-Telegram
"Broadway tunes leave audience with an enchanted evening. Neil berg is a powerful, kinetic pianist with a load of chops. He also writes music for Broadway and Off-Broadway shows. What (makes) Berg's production was the quality of the performers and the arrangements. The singers were excellent. Berg creates a well-balanced blend of the sublime and the lighthearted.."
- Buffalo News
101 Years of Broadway is two and a half hours of fun! Whenever Neil Berg is putting on his 101 Years of Broadway within a two hour radius – I'm there! Neil puts on these hit-filled concerts featuring a bevy of Broadway performers singing some of the theater's most well known tunes. It brought down the house, and it doesn't get much better than that."
– Robert Diamond, BroadwayWorld.com
ABOUT SAN JOSE REP
San Jose Rep is the premier non-profit, professional theatre company in the South Bay, presenting six to seven main stage productions each year. Now in its 31st year as a major contributor to the South Bay's cultural community, San Jose Rep's mission is to engage, entertain and inspire people. San Jose Rep produces innovative theatrical performances that offer fresh perspectives into the human condition, educational programs that promote life-long learning, and outreach initiatives that benefit our diverse community. For more information, visit www.SJRep.com.
###