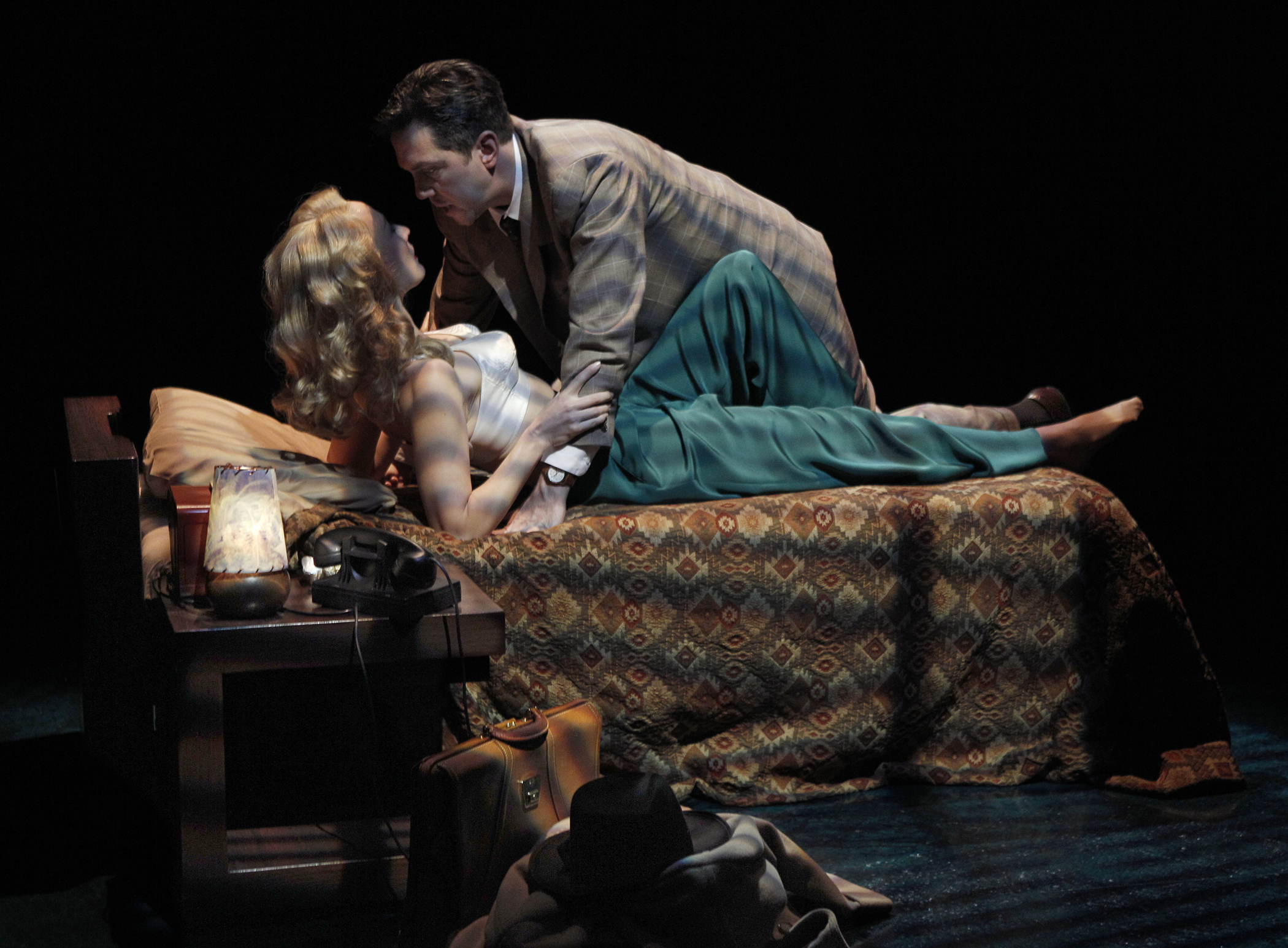 MEDIA RELEASE
Contact:
Daniel Garza/PRx
cell: 408 348-3458
daniel@prxinc.com
To Download Press Photos Click Here
San Jose Rep Presents World Premiere of Noir Classic Double Indemnity
Best-Seller Novel and Cult Film, Now an Acclaimed Play
SAN JOSE, Calif., (January 5, 2012) -- From the dark and treacherous streets of 1930s LA comes a tale of betrayal, lust, and murder as the San Jose Rep stages the world premiere of the noir classic Double Indemnity
A co-production of A Contemporary Theatre (ACT) of Seattle and the San Jose Rep, Double Indemnity was written by James M. Cain and adapted for the stage by David Pichette and R. Hamilton Wright. Double Indemnity is directed by ACT Artistic Director Kurt Beattie, and features an ensemble of five actors.
The plot involves the beautiful and seductive Phyllis Nirlinger who hatches a cold-blooded scheme to murder her husband, but not before taking out an insurance policy on his life -- one which pays double if he dies in an accident -- in this case, a fall from a moving train.
Smart-talking insurance agent Walter Huff falls victim to the persuasive femme fatale and caught in a web of greed and lust, the adulterous couple commits the near perfect crime leading to guilt, suspicion, and betrayal.
The production runs from Jan. 12 to Feb. 5, 2012 with Press Opening Night on Wednesday, January 18 at 7:30 pm. Tickets are available at the San Jose Rep Box Office at 101 Paseo de San Antonio or can be purchased online at www.SJRep.com or by calling 408.367.7255.
Before Double Indemnity became one of the most popular novels in American fiction, Cain wrote the story as a novella published as an eight-part serial in Liberty Magazine in 1936. Cain drew his inspiration for Double Indemnity from the sensational New York murder trial of Ruth Snyder and Judd Gray in 1927.
Legendary director Billy Wilder adapted the story for film in 1944 with a screenplay he co-wrote with famed detective fiction writer Raymond Chandler. Starring Fred MacMurray, Barbara Stanwyck, and Edward G. Robinson, the film received seven Academy Award nominations and in 1992 was selected for preservation in the National Film Registry.
Double Indemnity is widely credited with helping to propel the American film industry's explosive "film noir" movement in the 1940s and 50s.
"The film is a great film, and they did really remarkable things with Cain's book to turn it into a great movie," said director Kurt Beattie. "But there is in fact a reason for doing a stage adaptation of the book. [The] book creates opportunities for a new experience in the theater that will be very different and I think very surprising to people who know the film. It's a very interesting opportunity aesthetically."
With healthy doses of suspense and intrigue, Double Indemnity explores the materialistic and sexual cravings of Depression-era America, with Pichette and Wright now giving the story a fresh and electrifying rendering.
"Cain documents the fear and terror at the heart of modern life in his own odd way, and it's why his work has hung around. It's compelling not just because it's good entertainment, but because it's actually saying something about what it is to live in the modern world," said Beattie.
Writer Pichette adds, "We are in fact facing a national crisis where again, we've watched malfeasance on a level that had been unthinkable. You start getting into a Huff-like mentality where you think, if those are the new rules, why shouldn't I take advantage in a similar fashion?"
Double Indemnity features a combined cast of actors from both the Puget Sound and the Bay Area.
Cast:
John Bogar (Walter Huff)
Carrie Paff (Phyllis Nirlinger)
Richard Ziman (Keyes/Nirlinger)
Jessica Martin (Lola Nirlinger/Nettie/Nurse)
Mark Anderson Phillips (Nino/Jackson/Norton)
Regularly priced tickets for Double Indemnity range from $29 to $74 with student tickets priced from from $10 to $37. Seniors and teachers receive $6 off the ticket price.
Approx. Performance Run Time: 2 hours with one 20 minute intermission.
About San Jose Rep:
San Jose Rep is the premier non-profit, professional theatre company in the South Bay, presenting six to seven main stage productions each year. Now in its 31st year as a major contributor to the South Bay's cultural community, San Jose Rep's mission is to engage, entertain and inspire people. San Jose Rep produces innovative theatrical performances that offer fresh perspectives into the human condition, educational programs that promote life-long learning, and outreach initiatives that benefit our diverse community. For more information, visit www.SJRep.com.
###