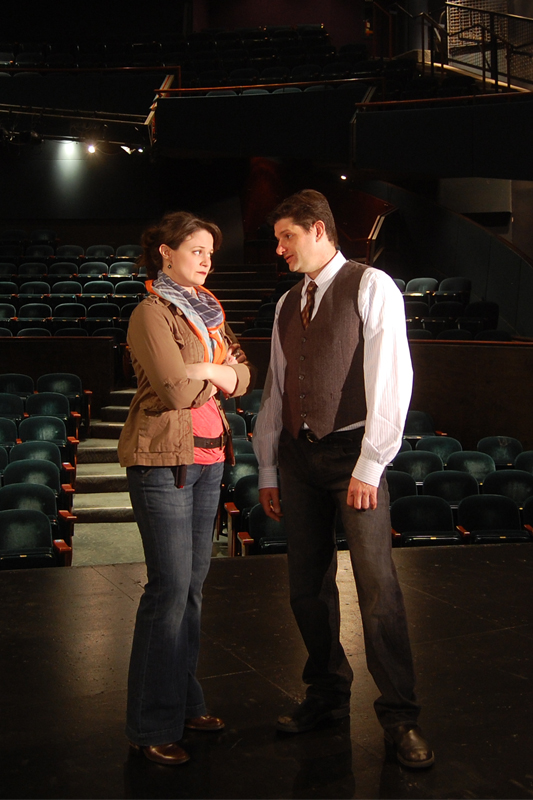 (l to r) Jessica Wortham as Roxanne and Gabriel Marin as Harry in San Jose Rep's The Understudy. Photo: Ana Zavala

(l to r) Jessica Wortham as Roxanne and Gabriel Marin as Harry in San Jose Rep's The Understudy. Photo: Ana Zavala

(l to r) Gabriel Marin as Harry and Jessica Wortham as Roxanne in San Jose Rep's The Understudy. Photo: Ana Zavala

(l to r) Gabriel Marin as Harry and Jessica Wortham as Roxanne in San Jose Rep's The Understudy. Photo: Ana Zavala
For Immediate Release
Contact:
Daniel Garza/PRx
cell: 408 348-3458
daniel@prxinc.com
Click here to go to San Jose Rep's Media Room
SAN JOSE, Calif., April 24, 2012 -- A Hollywood action star tries to prove himself in a serious Broadway play by Kafka, and he comes up against a new understudy with a chip on his shoulder and a tangled romantic past, in San Jose Rep's production of The Understudy, scheduled to run from May 10 through June 3. Press Opening Night is May 16, 2012, at 7:30 pm.
This laugh-out-loud look at the battle for stage credibility between a typecast movie star and a "real" actor provides hilarious insight into the complicated relationships that form in the stressful and emotional world backstage. "A masterpiece of comic clockwork, raucously funny!" said The Wall Street Journal

Pulitzer Prize nominee Theresa Rebeck, one of the most-produced female playwrights in America, returns to San Jose Rep with her latest off-Broadway hit. The Understudy premiered at the 2008 Williamstown Theatre Festival and ran in New York at the Laura Pels Theater in a Roundabout Theatre Company production as part of their 2009-2010 season. San Jose Rep's production is directed by Amy Glazer, and the cast includes Gabriel Marin (Harry), Craig Marker (Jake), and Jessica Wortham (Roxanne). Marin and Marker perform widely in Northern California and are familiar to San Jose Rep audiences having most recently appeared together in the world premiere of Love in American Times. Wortham was last seen at San Jose Rep in her SFBATCC-winning performance in Black Pearl Sings! last season.

Rebeck is the creator of Smash, a musical drama television series that is co-produced by Steven Spielberg, currently airing on NBC. Past New York productions of Rebeck's stage work include Mauritius at the Biltmore Theatre in a Manhattan Theater Club production; The Scene, The Water's Edge, Loose Knit, The Family of Mann, and Spike Heels at Second Stage; Bad Dates, The Butterfly Collection, and Our House at Playwrights Horizons; and View of the Dome at New York Theatre Workshop. Omnium Gatherum (co-written, finalist for the Pulitzer Prize in 2003) was featured at the Humana Festival, and had a commercial run at the Variety Arts Theatre.

Ms. Rebeck has written two novels, Three Girls and Their Brother and Twelve Rooms With A View. In addition to Smash, her television credits include writing for Dream On, Brooklyn Bridge, L.A. Law, American Dreamer, Maximum Bob, First Wave, and Third Watch. She has won the National Theatre Conference Award and was awarded the William Inge New Voices Playwriting Award in 2003.

Regularly priced tickets for The Understudy range from $29 to $74 with student tickets priced from from $10 to $37. Seniors and teachers receive $6 off the ticket price.

Approx. Performance Run Time: 90 minutes with no intermission.

About San Jose Rep:
San Jose Rep is the premier non-profit, professional theatre company in the South Bay, presenting six to seven main stage productions each year. Now in its 31st year as a major contributor to the South Bay's cultural community, San Jose Rep's mission is to engage, entertain and inspire people. San Jose Rep produces innovative theatrical performances that offer fresh perspectives into the human condition, educational programs that promote life-long learning, and outreach initiatives that benefit our diverse community. For more information, visit www.SJRep.com.