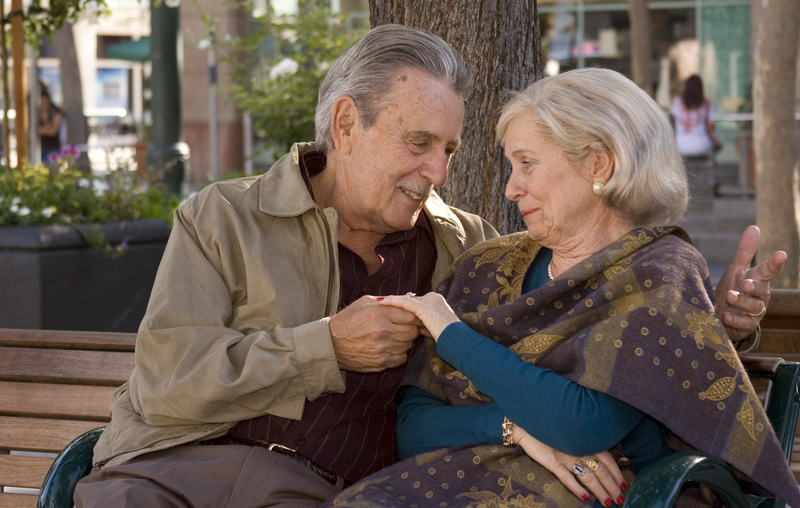 MEDIA RELEASE
For Immediate Release
For interviews, contact:
Daniel Garza/PRx
cell: 408.348-3458
daniel@prxinc.com
Click Here to Download Photos
SAN JOSE, Calif., (September 26, 2011) -- Are you ever too old to find love? It's a question that gets lighthearted consideration as San Jose Rep stages Tony Award-winning Joe DiPietro's The Last Romance, directed by Laird Williamson, October 13 through November 6, 2011.
Life is suddenly a thrill again after 83-year-old Ralph takes a detour from his everyday routine and stumbles headlong into romance. As he attempts to woo the attractive and reluctant Carol with the persistence of a smitten teenager, he finds that love's last round comes with its own set of obstacles. The hesitant couple must negotiate a jealous sibling, secrets from their past, and their own fear of taking the plunge, yet again, as they embark on one more chance at love.
"Once upon a time an old peasant falls in love with a beautiful princess who lives in a glittering regal tower. They share their troubles and joys, set off on a journey to a magical land of enchantment, and live happily ever after," says director Laird Williamson. "Thus the story goes in the fairy tale. But for Carol and Ralph, two lonely elderly people who meet at a dog park in Hoboken, New Jersey things unfold a little differently. Their journey is bitter and sweet but it takes them to places they thought they'd never find again." In this small and intimate play, the drama depends on the nuanced interactions of the main characters who are unexpectedly forced out of their lonely ruts.
The production runs from Oct. 13 to Nov. 6, 2011 with Press Opening Night on Wednesday, October 19 at 7:30 pm. Tickets are available at the San Jose Rep Box Office at 101 Paseo de San Antonio or can be purchased online at www.SJRep.com or by calling 408.367.7255.
In 2008, DiPietro debuted The Last Romance, which he wrote for Marion Ross of television show "Happy Days" fame and her longtime partner Paul Michael. San Jose Rep's production features Kitty Winn in the role of Carol and Will Marchetti as Ralph.
Regularly priced tickets for The Last Romance range from $29 to $74 with student tickets priced from from $10 to $37. Seniors and teachers receive $6 off the ticket price.
CAST
Joshua Jeremiah - The Young Man
Sharon Lockwood - Rose
Will Marchetti - Ralph
Kitty Winn - Carol
ARTISTIC COLLABORATORS
Laird Williamson - Director
Joshua M. Rose - Stage Manager
Peter Royston - Assistant Stage Manager
Michael Ganio - Scenic Designer
Betty Poindexter - Costume Designer
Dan Meeker - Lighting Designer
Steve Schoenbeck - Sound Designer
About the Rep:
San Jose Rep is the premier non-profit, professional theatre company in the South Bay, presenting six to seven main stage productions each year. Now in its 31st year as a major contributor to the South Bay's cultural community, San Jose Rep's mission is to engage, entertain and inspire people. San Jose Rep produces innovative theatrical performances that offer fresh perspectives into the human condition, educational programs that promote life-long learning, and outreach initiatives that benefit our diverse community. For more information, visit www.SJRep.com.
###