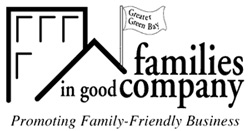 Green Bay, WI (October 18, 2011) - Skyline Technologies, Inc. was honored to receive the Families in Good Company award presented by the Green Bay Area Chamber of Commerce at their annual dinner on October 17, 2011.

Families in Good Company recognizes Green Bay area employers who take the extra step in supporting working families and implementing family-friendly policies and a family-friendly workplace environment. Other selection criteria included promoting the value of education, supporting involvement of employees in their children's education, volunteerism, and operating under family-friendly policies that are user-friendly and available companywide.

Skyline is an extremely family-focused company built on the guiding principles of integrity, quality, commitment, communication, education, teamwork, balance and fun. These principles have been adopted from the top down. "It's the leadership of Skyline Technologies that has turned the concept of a great place to work into a reality; they strive to create genuine relationships with their teams", said Bridget DeGroot, Skyline's Human Resources Manager in her acceptance speech on Monday evening. "I see first-hand how Skyline leaders are motivated by seeing their teams develop into amazing people - both professionally and personally. They understand that our associates work to live, and don't always live to work."

# # #

About Skyline Technologies
Skyline Technologies, Inc. was founded in 1992 and is based in Green Bay, WI with offices in Appleton and consultants on-site at client-partner facilities. Skyline is recognized as a world-class IT services firm specializing in software development, business intelligence, enterprise portal, web design, and providing online marketing support services to clients throughout Wisconsin and the Upper Midwest. Skyline is a Microsoft Gold Certified Partner and employs approximately one hundred information technology and online marketing experts.

Visit www.skylinetechnologies.com for more information.