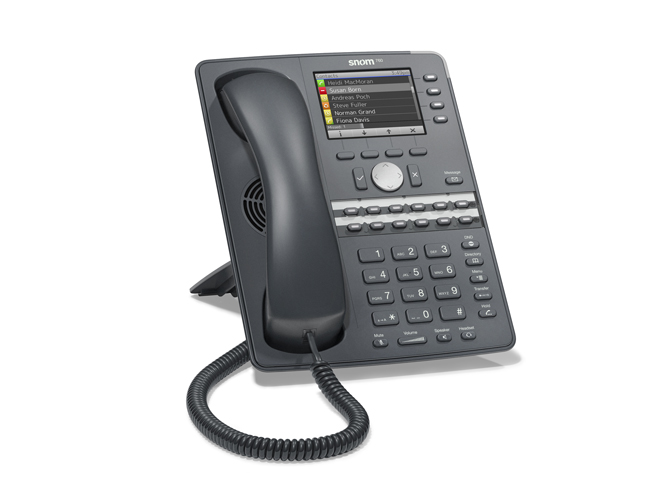 snom 7xx series builds on snom's VoIP heritage blending traditional calling features with advanced SIP and XML capabilities and a sleek design; new snom 720 and 760 VoIP phones interoperable with wide range of IP PBX, hosted VoIP and unified communications platforms ensuring fast and easy integration and deployment in diverse business environments
Woburn, Mass. (November 8, 2011) - snom technology AG, a leading developer of IP desktop phones and IP communications solutions, today introduced a new line of business VoIP phones – the snom 7xx series designed for both small and mid-sized businesses requiring an enterprise-class desktop phone on an SMB budget. The snom 720 and snom 760 business phones bring together the multiple programmable buttons and popular standard business functionality of the snom 3xx series with the advanced functionality, sleek styling and Gigabit Ethernet switch found in the snom 8xx series to create an advanced desktop phone at a value-driven price.
"The new snom 7xx line of VoIP phones addresses a key need in the market for an affordable enterprise-class phone with the capabilities and flexibility to fit businesses of any size," said snom COO Mike Storella. "We believe the snom 720 and 760 should have broad appeal to customers requiring an endpoint that has exceptional design, performance and advanced IP communications features while still retaining the convienence and utility of a traditional business phone."
Advanced Features and Elegant Design for Next Generation Business
Both the snom 720 and 760 offer a Gigabit Ethernet switch, automatic provisioning, wireless LAN connectivity and snom's superior wideband high definition voice quality. In addition, thanks to a Gigabit Ethernet switch, both phones can transfer data at a speed of 1000Mbits/s without slowing down the network or a connected PC. Both phones also feature Bluetooth connectivity via optional USB stick, allowing users the freedom to use a compatible Bluetooth headset with their snom 7xx series phone. The snom 760 features a high-resolution color display and two USB ports for a variety of connectivity options, as well as a newly designed handset grip that increases user friendliness by providing silent pickup and return of the handset. The snom 760 also includes a 16-key programmable busy lamp field and 4 context-sensitive keys complemented by the large, easy to read display.
The snom 760 also offers the standard desktop feature set of any snom phone, and is ideal for business environments that require a greater level of visual functions, such as the use and delivery of XML-based data. The large display also supports caller images, uploaded by the caller or included in the user's address book.
Traditional Phone Features for Everyday Business
The snom 720 builds off the elegant and functional simplicity of the snom 3xx series business phone, featuring an easy to read, four-line monochrome graphical display. The snom 720 offers 18 fully configurable function keys and four variable keys, ideal for managing and contacting large groups of people.
The snom 720 also supports all standard VoIP calling features, including an address book with 1,000 possible entries, speed dialing, URL dialing, ringtone selection and LED call indication. In addition, the snom 720 and 760 also feature wireless LAN (WLAN) connectivity via optional USB stick.
Both the snom 720 and snom 760 will be available for distributors and resellers in Australia and New Zealand in Q1 2012. snom 720 MSRP is $219.00 US and snom 760 MSRP is $329.00 US.
For more information about snom products in Australia and New Zealand, contact local snom distributors Alloy Computer Products, IPL Communications or Compass Communications.