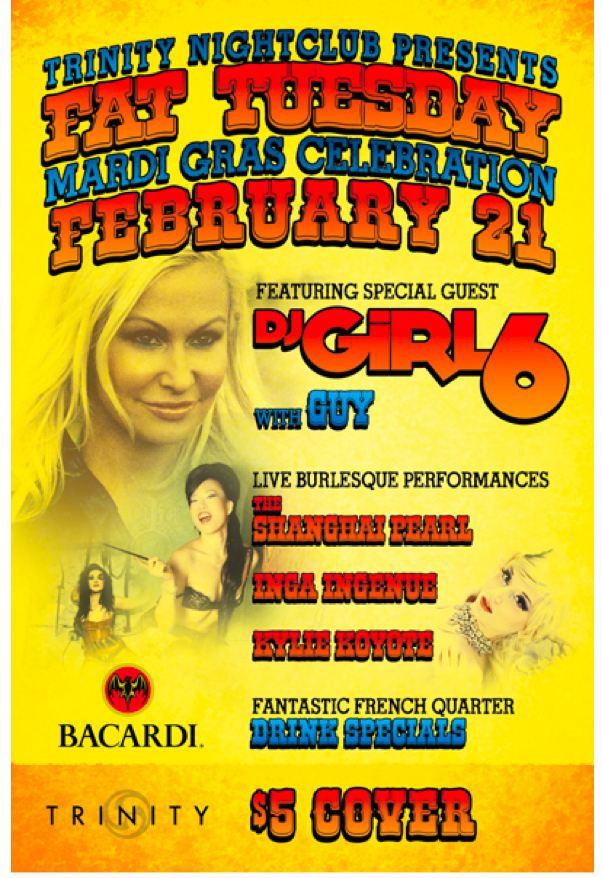 WHO:
DJ Girl 6 is a pioneer in the Video DJ movement and an international performer. She is a Seattle native, graduated from the University of Washington and received her Graduate Degree from Seattle University. She currently resides in Las Vegas, NV and travels the globe DJing.
WHAT:
DJ Girl 6 will be the special guest at Trinity Nightclub during its Fat Tuesday, Mardi Gras Celebration, performing her award winning and world renowned video show. The 21 and older show's cover charge for the night is $5 per person.
Doors open at 9:00 p.m. and DJ Girl 6 will take the stage at midnight.
WHEN:
TUESDAY, FEBRUARY 21
9 p.m. – Doors Open
9 p.m. – Midnight – Special entertainment and performances
Midnight – DJ Girl 6 performs
WHERE:
Trinity Nightclub
111 Yesler Way
Downtown Seattle 98104
206-447-4140
ADDITIONAL INFORMATION:
DJ Girl 6 relocated to Las Vegas, NV from Seattle, WA in 2007. She packed her car and drove to Las Vegas with five outfits, two turntables and a mixer. DJ Girl 6 is available for interviews prior to February 21. For more information on her career, accomplishments and a sample of her craft, visit www.djgirl6.com.
**If interested in sending a camera, please contact Guy Godefroy at 206-853-6702 for clearance
###