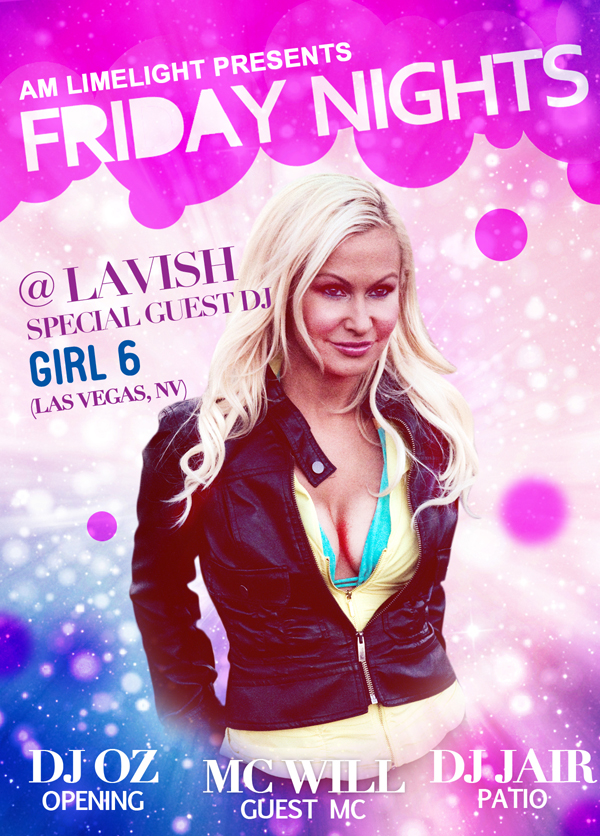 WHO:
DJ Girl 6 is a pioneer in the Video DJ movement and an international performer traveling the globe and entertaining A-list celebrities. She is also the first commercial video remixer in the industry. Among one of her many awards and recognitions, DJ Girl 6 won herself the first video remixer spot on Crooklyn Clan, a New York based Hip-Hop and Mash Up production team.
DJ Girl 6 is quite the commodity – she holds three Las Vegas residencies; tours around the globe and she recently graduated from Icon Collective Production Academy. As a production graduate, expect distinct and cutting-edge sounds from DJ Girl 6 in the near future to add to her arsenal of Audio/Video Remixes.
WHAT:
DJ Girl 6 will be the special guest at Lavish Grill Lounge performing her award winning and world renowned cutting-edge sounds.
DJ Girl 6 will take the stage at midnight.
WHEN:
Friday, March 23; DJ Girl 6 performs from Midnight – 2:00 AM
WHERE:
Lavish Grill Lounge located at 1701 Jacaman Rd., Laredo, TX
956-283-5737
ADDITIONAL INFORMATION:
For more information on DJ Girl 6, her career, accomplishments and a sample of her craft, visit: www.DJGirl6.com, www.twitter.com/DJGirl6 & www.facebook.com/DJGirl6
**If interested in sending a camera, please contact Beeyay at 619-764-2639 for clearance