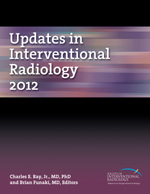 FAIRFAX, Va.—"Updates in Interventional Radiology," the first in a series of annual literature reviews of the unique specialty of minimally invasive medicine, was recently released by Society of Interventional Radiology Press.
"The scope of interventional radiology is expanding, and it has become increasingly difficult for practicing interventional radiologists to digest and assimilate the volume of literature required to remain current," said Brian Funaki, M.D., FSIR, professor of radiology and section chief of interventional radiology at the University of Chicago Medical Center. "In 'Updates in Interventional Radiology,' we culled dozens of recent articles relevant to the practice of interventional radiology, pinpointed emerging trends and technologies, and through summaries and commentaries—and by using individual practices as examples—provided a roadmap for incorporating these into an existing practice," added Funaki, who co-edited the book with Charles E. Ray Jr., M.D., Ph.D., FSIR, professor and chief of interventional radiology at the University of Colorado in Denver.
"With literature culled from radiology journals and a broad spectrum of non-radiology journals, 'Updates in Interventional Radiology' will serve as a source for the most pertinent recent literature in interventional radiology by leading experts in the field," said Ray. "Our hope is that this new volume will bridge the gap between the wealth of literature required to remain current and the ways in which advances in the specialty can be incorporated into a successful practice," he added
"Updates in Interventional Radiology," a 120-page paperback book, includes these topics: clinical practice, aneurysms, femoropopliteal disease, venous thromboembolism, portal hypertension, liver malignancy, pulmonary and renal malignancies, stroke and women's health. Each chapter contains the strengths of the published literature, a summary of how the editors have implemented changes in individual clinical practices and a key points section that highlights changes in practice patterns. More information about this book can be found online at www.SIRweb.org. To order this book, visit the IR Store or call (888) 695-9733.
# # #
About the Society of Interventional Radiolog
Interventional radiologists are physicians who specialize in minimally invasive, targeted treatments. They offer the most in-depth knowledge of the least invasive treatments available coupled with diagnostic and clinical experience across all specialties. They use X-ray, MRI and other imaging to advance a catheter in the body, such as in an artery, to treat at the source of the disease internally. As the inventors of angioplasty and the catheter-delivered stent, which were first used in the legs to treat peripheral arterial disease, interventional radiologists pioneered minimally invasive modern medicine. Today, interventional oncology is a growing specialty area of interventional radiology. Interventional radiologists can deliver treatments for cancer directly to the tumor without significant side effects or damage to nearby normal tissue.
Many conditions that once required surgery can be treated less invasively by interventional radiologists. Interventional radiology treatments offer less risk, less pain and less recovery time compared to open surgery. Visit www.SIRweb.org.
Reporters: To arrange local interviews, please contact Ellen Acconcia, SIR communications manager/practice areas, eacconcia@SIRweb.org, (703) 460-5582, or Maryann Verrillo, SIR director of communications and public relations, mverrillo@SIRweb.org, (703) 460-5572.