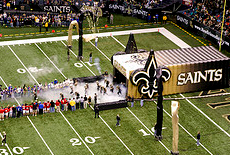 Last month, the National Football League announced severe penalties against the New Orleans Saints football team for their "bounty program"—a system that offered monetary incentives for injuring players on opposing teams.
Gabe Feldman, a sports law professor at Tulane University Law School said that former or current players who experienced injuries that may have been a result of bounty programs could file an intentional tort claim in state court, according to The Atlantic.
A personal injury lawsuit could be brought against coaches, players, and even top Saint officials if they knew about the bounty system. Although any litigation would be based on the plaintiff's ability to prove that a Saint's player purposefully injured an opponent, Feldman expects players to civil lawsuits against the team.
If you've been injured in a sports-related injury, contact Sokolove Law for a free legal consultation and to find out if a personal injury lawyer may be able to help you.
Photo courtesy of trumanlo via Flickr.