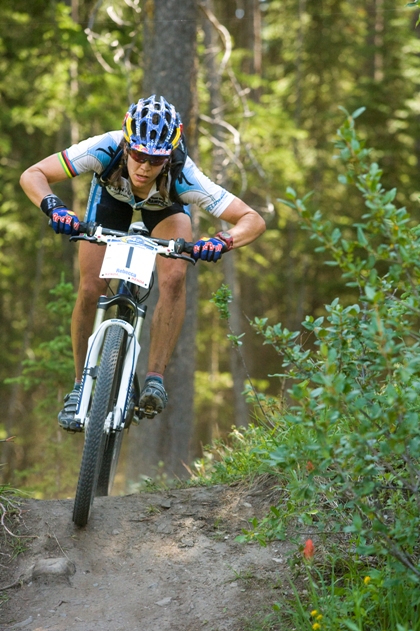 SOLE, the manufacturer of premium footbeds, socks and sandals, announces the addition of world champion mountain biker Rebecca Rusch to its athlete team.
"
SOLE products
help me perform at my best," says
Rusch
. "The custom footbeds improve the comfort and performance of my bike shoes and their supportive, orthopedic sandals are a critical part of my post-ride recovery."
"Professional endurance athletes like Rebecca need all the performance benefits they can get," adds SOLE President Mike Baker. "Our products help keep Rebecca's feet happy and healthy and that means she can race faster and longer. We're thrilled to have such a committed athlete on our team."
After nine years of racing and often winning the world's most challenging adventure races, Rusch turned her talents towards endurance solo mountain biking in 2006. That same year, she won the 24-Hour Solo Mountain Biking Nationals, and placed second in the world championships. Rusch went on to win the 2007, 2008 and 2009 Worlds, cementing her reputation as one of the best female endurance mountain bikers of all time. In 2009, Rusch shared the podium with cycling legend Lance Armstrong at the grueling Leadville 100 race and was prominently featured in "Race Across the Sky," a documentary film about the event.
About SOLE
SOLE launched its line of supportive, do-it-yourself, heat moldable custom footbeds in 2001. Millions of happy feet later, SOLE extended its expertise in foot health and comfort to a line of Performance Socks. In 2008, SOLE launched its Platinum Sandal, which offers unrivaled orthopedic support and comfort. REI, Red Wing Shoes, Zappos.com and thousands of specialty retailers around the world carry SOLE. SOLE products are used by dozens of professional teams in the NFL, NBA and MLB as well as the US and Canadian Military. For more information on SOLE, go to www.yoursole.com or call 866-235-SOLE.