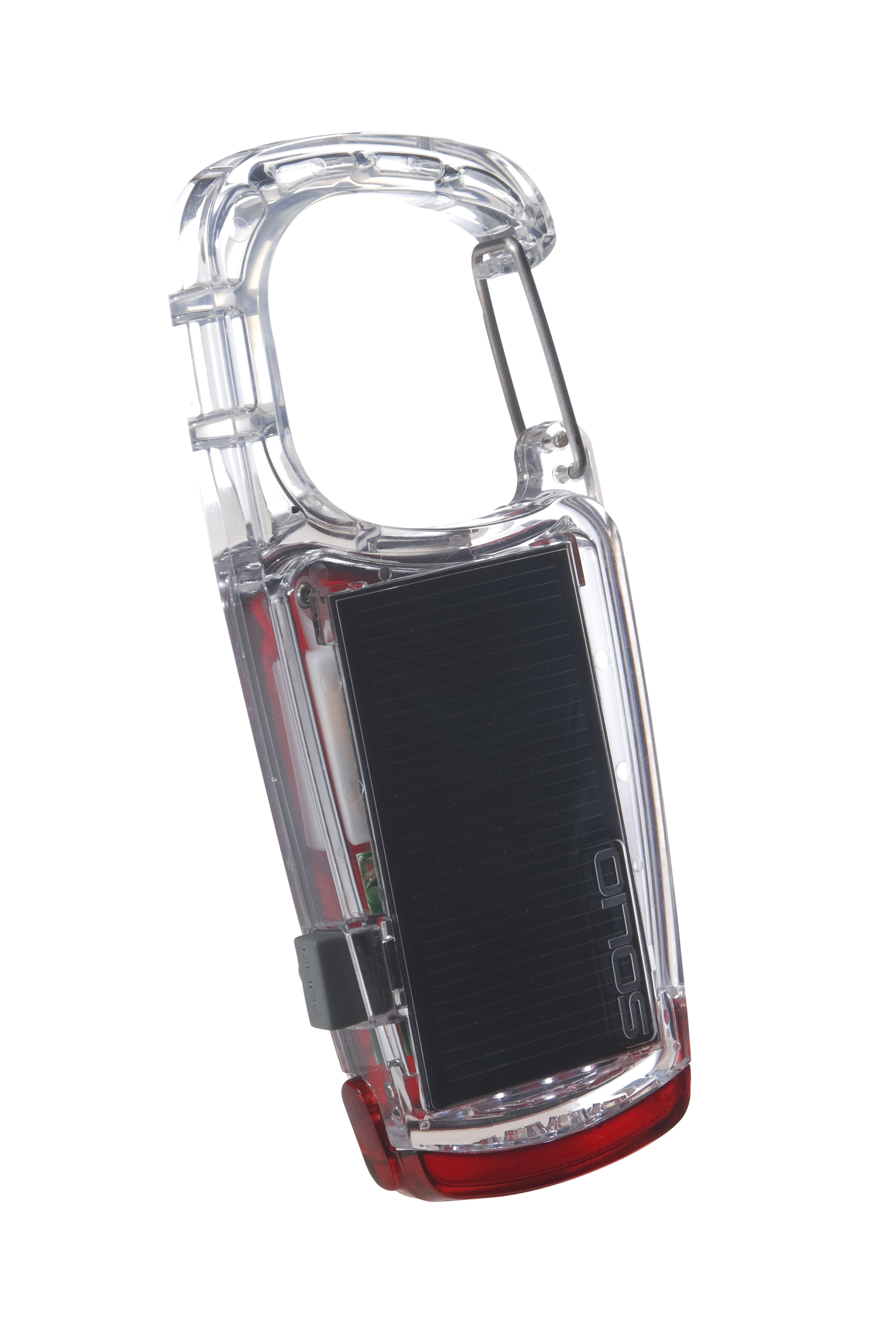 OAKLAND, Calif. (January 10, 2012) – Solio, leading developer of hand-held battery packs and solar chargers, announces the launch of the CLIP-MINI, the first in a series of rechargeable lighting products from the innovative brand. The CLIP-MINI allows users to harness the clean energy of the sun or optionally the wall, to keep light burning all through the night.
NEVER BUY BATTERIES AGAIN
With the CLIP-MINI, outdoor adventurers won't be limited to how far they go for fear that their light will run out of power. Simply charge the CLIP-MINI by either placing the unit in the sun or by plugging into the wall via the included USB charging cable. Unlike traditional lighting products that require toxic and difficult to recycle single-use batteries, from day one, the CLIP-MINI costs nothing to operate.
ALWAYS PREPARED FOR AN EMERGENCY
The CLIP-MINI is an essential addition to any emergency preparedness kit. With an internal Lithium-Polymer battery that stores charge for up to a year, and a high efficiency solar panel to charge the CLIP-MINI from the sun, you can rest easy knowing that you'll always have light in the case that a disaster strikes.
FIVE LIGHTING MODES
The CLIP-MINI packs five lighting modes, each varying in intensity of brightness and illumination, giving users multiple lighting options to fit their needs. Illumination modes include 100% strength, 50% strength, 10% strength, Flashing, and SOS. With a fully charged battery, the Clip-Mini provides 5 hours 30 minutes of Light in 100% mode, 11 hours of Light in 50% mode, and 50 hours of Light in 10% mode.
BUILT-IN DIFFUSER
Featuring a built-in diffuser, it's simpler than ever to soften the CLIP-MINI's bright beam. End night blindness by switching the light on with the red diffuser in place, and then switch over to white light once your eyes have adjusted. Additionally the CLIP-MINI can easily be converted into a bike safety light by placing down the red diffuser, and switching the CLIP-MINI into Flashing mode.
READY-TO-GO
The CLIP-MINI is a versatile tool for adventurers of all types as it comes equipped with an integrated carabiner, making on-the-go charging a breeze. Like it's solar charger siblings, the CLIP-MINI is light, durable, and aesthetically pleasing. Weighing only 3.6 ounces and encased in a rugged shell, the CLIP-MINI is able to withstand daily use, makes the perfect addition to a gear bag, glove box, or emergency kit, and encourages sustainability.
-
The Solio CLIP-MINI is now available for pre-order at www.solio.com, and will begin shipping to customers on February 15th, 2012.
MSRP $35
About Solio
Solio is a developer and manufacturer of portable solar chargers and lighting systems, helping power work and play with renewable energy. Solio products are compatible with an enormous range of devices from GPS units to MP3 players, smartphones, and cameras. Chances are, if a device can be powered by USB, it can be powered by Solio. A nearly ten-year-old brand, the Oakland, CA-based company makes its products available for purchase through specialty retailers like REI, Sprint, RadioShack and also provides rural communities in Kenya with home solar lease options, providing access to affordable clean energy and lighting systems. For more information visit www.solio.com.
Solio stands for energy equality
Through Kiva microfinance loans, solar energy entrepreneurs are able to start a green energy business of their own. Solio is a proud partner of Kiva - find out more here: www.kiva.org/green
Inquiries: Craig Randall at Verde PR & Consulting | 303-718-6519 | craig@verdepr.com
###