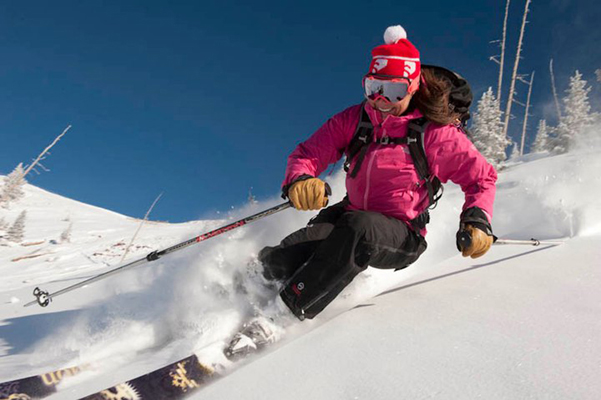 Kim Havell in her element. Photo Credit: Pete McBride

Kim Havell in her element. Photo Credit: Pete McBride
OAKLAND, Calif. – The decade-old leader in the hand-held battery packs and solar chargers category, Solio, announces Kim Havell as part of its recently launched athlete ambassador program. Havell doubles as an Outside TV correspondent and contributor to National Geographic Adventure, Powder Magazine, and Outside Magazine where she chronicles her international mountain adventures.
While Havell's travels make exquisite photojournalism, the success of her pursuits is compromised when her devices' internal batteries begin to dwindle. With Solio's BOLT backup battery pack and solar charger, Havell powers her Suunto Ambit watch, Black Diamond headlamps, Garmin GPS, and Apple iPod during extended sessions away from the grid. Solio helps satisfy Havell's desires to promote an end to dependence on costly, toxic single-use batteries.
Solio relies on the input of its athletes like Havell and its longstanding partners in Kenya for daily product testing under the harshest conditions.
"Aligning with Solio is one way for me to pursue the things that I love while being responsible by the planet," Havell said. "Solio's solar products are indispensible while I travel because they ensure that I have a power source whenever I need one. The products' performance in the backcountry has been outstanding."
When the sun goes down, Havell finds her way with the CLIP-MINI, Solio's just-released solar and rechargeable light. The CLIP-MINI lets users harness the clean energy of the sun or optionally the wall, to keep light burning all through the night.
With an internal Lithium-Polymer battery that stores charge for up to a year, and a high efficiency solar panel to charge the CLIP-MINI from the sun, light is guaranteed on any adventure. By eliminating the need for disposable batteries, the CLIP-MINI eliminates waste, reduces the risk of dangerous battery acid contamination, and removes the weight of extra batteries from backcountry travelers' packs.
The CLIP-MINI ($35) is available now on www.solio.com, at Mountain Equipment Co-Op (MEC), and additional retail stores in the near future.

About Solio
Solio is a developer and manufacturer of portable solar chargers and lighting systems, helping power work and play with renewable energy. Solio products are compatible with an enormous range of devices from GPS units to MP3 players, smartphones, and cameras. Chances are, if a device can be powered by USB, it can be powered by Solio. Now a decade old, Solio is an Oakland, CA-based company distributed by Liberty Mountain and sold through specialty retailers like REI, Sprint, RadioShack. The company also provides rural communities in Kenya with home solar lease options, providing access to affordable clean energy and lighting systems. For more information visit www.solio.com.
Energy Equality
Solio stands for energy equality, the belief that all people – regardless of geography or economic standing- are entitled to clean energy and light. Through the development of local entrepreneurship in Kenya, Solio provides affordable, reliable power to rural communities. A purchase of a Solio product helps make this possible.

Media Contact:
Craig Randall at Verde PR & Consulting | 303-718-6519 | craig@verdepr.com