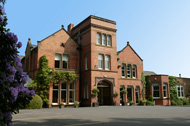 Spring cleaning doesn't need to be restricted to the home – businesses can also benefit from a period of focused reorganisation, advises Sundial Options and Solutions, the venue finding agent from Sundial Group. As British Summertime officially begins, a spring strategy meeting is the ideal opportunity to assess progress so far this year and introduce fresh new initiatives for the months ahead.
Rebecca Carter, Sundial Options & Solutions General Manager said, "With spring being such an ideal time to organise meetings and look ahead at the company events calendar for the rest of the year we see a lot of enquiries around this time. Clients are selecting us because they understand that we can save them considerable time and money when it comes to organising events and meetings; and we have an impressively high percentage of repeat business because of our proven expertise in free venue finding and all elements of event management."
Getting away from the familiar can help to energise and inspire a team, making an external meeting venue a smart choice for any spring strategy meeting. For large businesses, an independent venue is often the smarter choice when high number of delegates and personnel from multiple locations are called for. With a completely free venue finding service, meetings procurement and advanced meetings management tools, Sundial Options and Solutions can help to ensure the meeting or conference is productive and problem-free.
Acting as a venue finding agent, Sundial Options and Solutions can source UK and international venues and will base suggestions on budget, party size and required facilities. It will suggest three suitable venues within 24 hours and can leverage its buying power to secure the best possible rates.
The Sundial Options and Solutions venue finding service includes the entire venue finding lifecycle – from negotiation of conditions and cancellation terms after a venue has been selected to arranging group hotel accommodation and post-event feedback.
To find out more about venue finding and to start the search for your next meetings or event venue, simply visit http://www.sosmeetings.com
Body Text