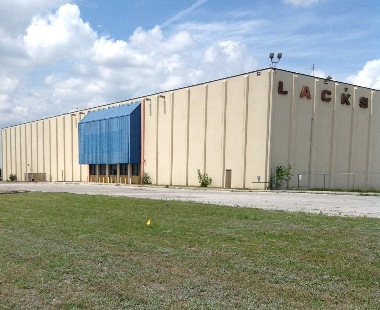 Residents in northeast San Antonio will soon see the hustle and bustle of charity happening in a once abandoned building. Todd Hess of Keller Williams Commercial, along with the Buyer, Daily Bread Ministries, plan to make this massive space an incubator for non-profits.
Daily Bread Ministries acquired the former Lacks Furniture Center warehouse at 6351 Rittiman Road in San Antonio from a Lubbock community bank for an undisclosed price. However, the property was on the market with an asking price of nearly $2.48 million.
To start the new venture off with the right spirit of charity, City Bank of Lubbock donated $150,000 to Daily Bread Ministries in an effort to help them make the deal happen.
Daily Bread Ministries is a largely volunteer faith-based food bank that assists those in need. Due to their success in San Antonio, they have helped develop partner food distribution centers in Boerne, New Braunfels, Seguin, Pleasanton, Castroville, and Eagle Pass, Texas.
"We are a not for profit corporation that collects food from all over the region to redistribute through churches and community groups," said Founder Seth Kuehn. Daily Bread Ministries handed out just shy of 6 million pounds of food and other basic necessities to families and individuals in need in 2011.
"We work through about 140 churches and inner city groups in the community," said Kuehn. "We collect items seven days a week, and do distribution three days each week."
In addition, as it says on their website (www.dailybreadministries.org), every $1 donated directly to Daily Bread Ministries distributes $20 worth of food to the needy.
Daily Bread Ministries currently has 11 employees, and over 100 dedicated volunteers. Kuehn began the ministry in 1996. Since its beginning, Daily Bread Ministries has quietly become a major supplier of rescued food to San Antonio's often overlooked and frequently underserved "poorest of the poor."
After coming across the opportunity to move into the Lacks warehouse, the idea for charity incubation came to life. "We want to expand charity work in San Antonio by aligning with other non-profit organizations. There are so many small organizations doing great things to give back to the community and they deserve help" said Kuehn. He went on to say that on their own smaller non-profits tend to struggle. Many can't succeed simply for a lack of resources."
He would like to see this building as a place where non-profits can function together. "We don't want to take over each other's businesses," he said. "We just want to share resources, and work together to keep the lights on in a facility that we all need."
Daily Bread Ministries is looking for schools, inner city agencies working with kids or the elderly, charities and foundations, government agencies, military, or education based companies to join them in utilizing the building.
Constructed in 1981, the 163,288-square-foot Lacks complex is a Class C industrial building with 123,288 square feet still available for lease. Contact Todd Hess if you are interested in details at 830-660-0999 or Todd-hess@att.net.