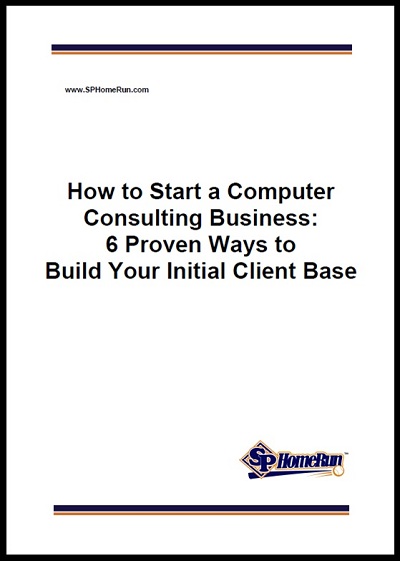 LAKE WORTH, FL- Computers are everywhere today: homes, businesses, and schools. And that means those systems will have issues that a computer professional will need to solve. Entrepreneurs who have been installing and troubleshooting computers as a hobby may be apprehensive about the jump into starting an actual business. SP Home Run Inc. advises that
starting a computer repair business from home
can be an excellent way to transition from hobby to viable and successful business.
To
start a computer repair business
from home, SP Home Run Inc. recommends taking the following steps:
Begin with Friends and Family to Establish a Network of Clients - These are the people who know and trust the entrepreneurs the most and should be a relatively easy sale.
Dedicate a Space in the Home Just for Business - The space needs to be large enough for computer repairs as well as the management and administrative aspects of the business. As most home-based computer repair businesses provide complimentary pick-up and delivery services, it is not necessary or advisable to have space for customers to visit the home office.
Set Aside Time Each Week for Administration and Bookkeeping - It is imperative to stay organized and the workspace needs to be well thought out. Even a small office typically needs a large file cabinet with some hanging files to keep paperwork for clients in one place. Administrative details shouldn't be allowed to pile up, but rather should be tackled promptly before getting out of control.
"Starting a home-based computer repair business can be easy and relatively low-cost," said
Joshua Feinberg
, Business Development Director of SP Home Run Inc. "However, there are definite steps that need to be taken in order to be successful. Another rule of thumb: Find out whether your local government or homeowners association has any rules regarding low-traffic or no-traffic home-based businesses."
Those looking to start a computer repair business from home should also download the free special report:
How to Start a Computer Consulting Business and Build Your Initial Client Base
from
http://www.sphomerun.com/how-to-start-a-computer-consulting-business
About SP Home Run Inc.
SP Home Run Inc. helps small business IT service providers get more high-paying, steady B2B clients by providing a suite of proven tools and resources that are available exclusively to SP Home Run Inc. members. The tools and resources focus on
IT marketing
and targeted lead generation, selling IT services and lead nurturing, IT service contracts, managed computer consulting,
IT channel and small business technology
, and
starting a computer business
.
The company currently serves clients all over the world. Its client base includes computer consulting businesses, VARs, network integrators, IT solution providers, MSPs, system builders, and computer repair businesses.
More information
about SP Home Run Inc.
can be found at
http://www.sphomerun.com/About-SP-Home-Run-Inc/
For interview opportunities and media requests, please contact:
Joshua Feinberg
Business Development Director
SP Home Run Inc.
Phone: +1 877-587-9580 x7
Email: media (at) sphomerun (dot) com
Twitter:
http://twitter.com/#!/sphomerun
###