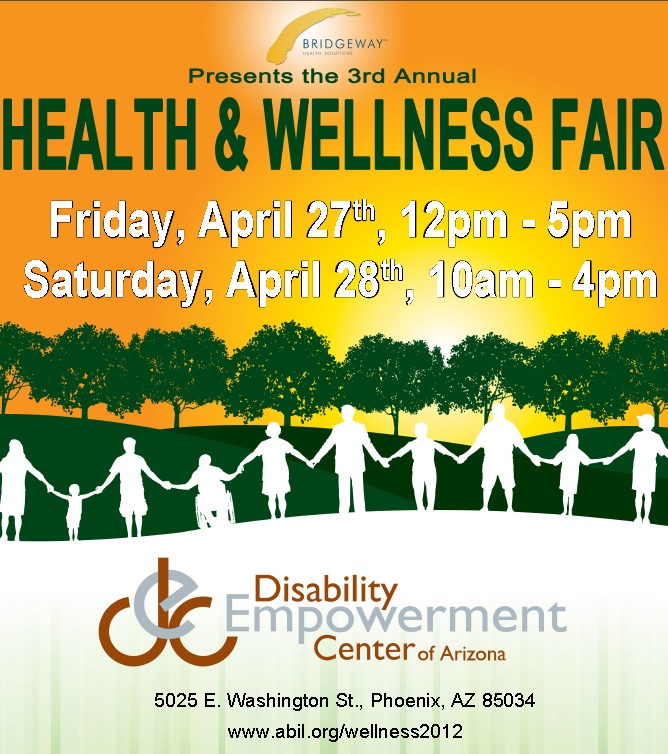 The Disability Empowerment Center (DEC) is hosting the third annual Health and Wellness Fair presented by Bridgeway Health Solutions on Friday and Saturday, April 27-28. The event will run from noon to 5pm on Friday and 10am to 4pm on Saturday.
Registration is not required and the entire event is free to the public.
This year's Health and Wellness Fair will provide attendees with information about numerous community resources available to people with disabilities and will also offer health screenings for heart rate, blood pressure and blood glucose levels.
Multiple presentations will be held in the conference rooms and classrooms at the DEC throughout both days. Scheduled topics include everything from transportation options for people with disabilities to tips on navigating the appeals process with the Arizona Health Care Cost Containment System (AHCCCS). Representatives from agencies such as the Arizona Center for Disability Law, Valley Metro and Vista Medical Group will be available to talk with guests and answer their questions.
CART services and/or sign language interpreters will be available for each presentation on both days.
David Carey, Advocacy Specialist at ABIL and the primary organizer of this year's Health and Wellness Fair, explained what people who have not attended the event in past years should expect. "Attendees will be given the opportunity to gain knowledge of the resources available to them within the community, as well as tips for maintaining a healthy lifestyle, which improves one's quality of life."
Sports demonstrations will also take place in the newly opened Virginia G. Piper Sports & Fitness Center for Persons with Disabilities (SpoFit) on Saturday. Instructors will be working with attendees to help them learn the basics about various sports and fitness activities, such as adaptive yoga, aqua stretch, wheelchair fencing, tai chi and wheelchair tennis.
In addition to the valuable presentations and demonstrations mentioned above, various information booths will be set up in the sports court area at SpoFit.
Mr. Carey explained the vital nature of the Health and Wellness Fair for those in and around the Valley, "One of the main purposes is to bring resources to our community. Oftentimes individuals with disabilities are isolated and lack the resources that are vital to living a quality life and/or lifestyle. Bringing resources together creates consumers with choice."
Along with the primary sponsor, Bridgeway Health Solutions, other major sponsors include Arizona Paralyzed Veterans of America, Touchstone Rehabilitation and Independent Medical at the Gold, Silver and Bronze levels, respectively.
The DEC is multi-tenant disabilities service campus, which is home to ABIL and ten other non-profit organizations. The DEC is located at 5025 E. Washington St. in Phoenix. More details about the Health and Wellness Fair, including transportation options, are available at www.abil.org/wellness2012. For questions or accommodation requests, please contact David Carey by email at davidc@abil.org or phone at (602) 443-0723.