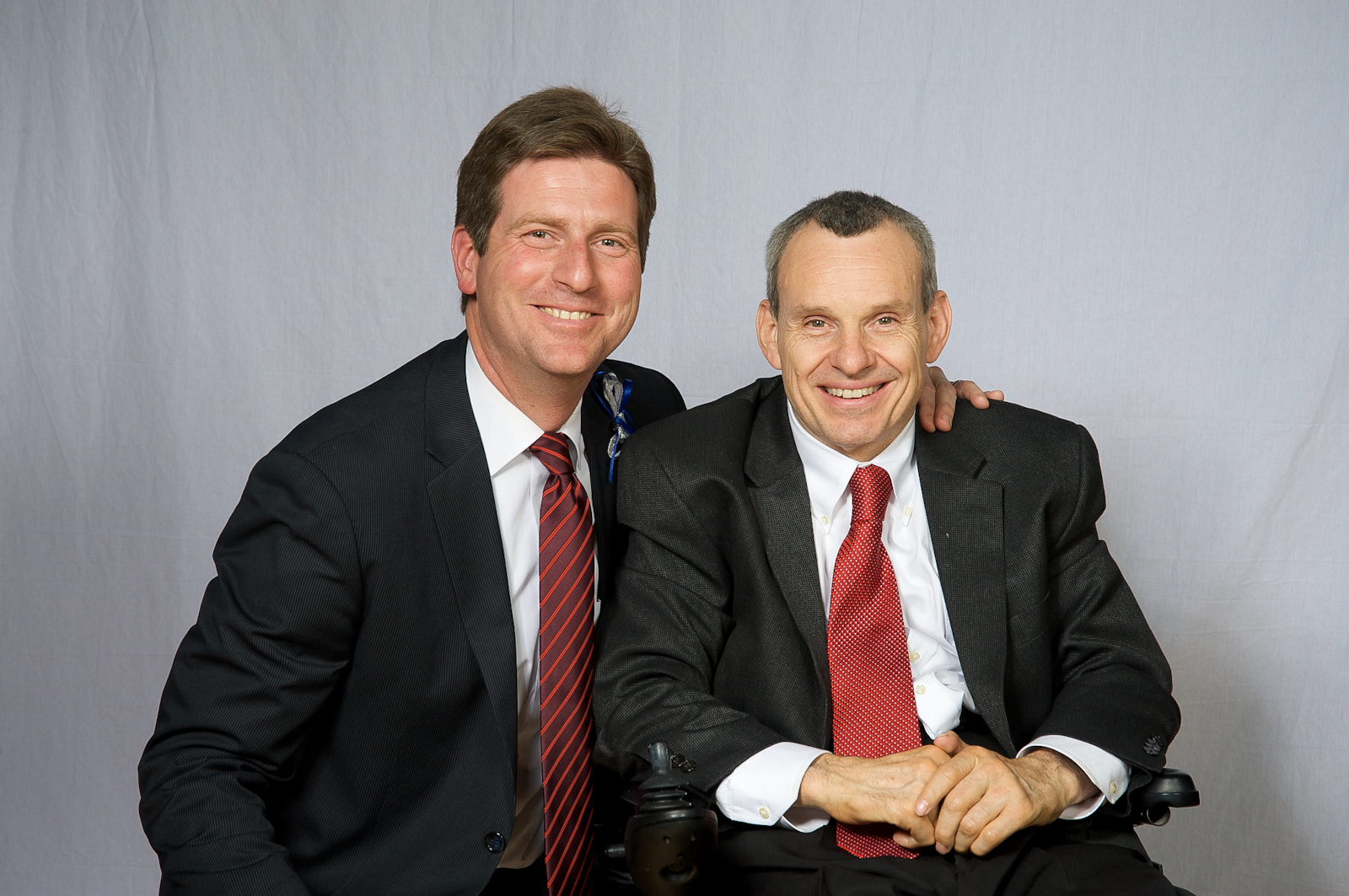 By Chris Carr
The Virginia G. Piper Sports & Fitness Center for Persons with Disabilities (SpoFit) is set to open its doors to the public for its Open House on Friday, February 24, starting at 10 a.m. Activities are ongoing through this Sunday.
The Grand Opening began with a VIP Reception on Thursday, February 23. The program included recognition of the major donors for the SpoFit project and a presentation of jerseys given to the facility by various athletes with disabilities. The jerseys are currently displayed in the building's main hallway, along with framed pictures and short biographies of each.
The six jerseys belong to Renee Tyree (wheelchair basketball), Nick Springer (wheelchair rugby), Katie Dickie (power soccer), Corbin Beu (sledge hockey), Jennifer Ruddell (basketball) and Scott Hogsett (wheelchair rugby).
In her comments, Ms. Ruddell talked about the importance of having a space like SpoFit built specifically for people with disabilities, saying: "It gives me great hope to see a lot of future athletes out here that now have a place they can call their home… and where they feel like first-class citizens, not someone that has to wait in line for someone else to get off the court so they can practice."
Phil Pangrazio, President and CEO of Arizona Bridge to Independent Living (ABIL), acted as the Master of Ceremonies for the evening's festivities. Throughout the night, he introduced each speaker, recognizing the numerous individuals and foundations that contributed funding for the facility. Donations came from the 2006 City of Phoenix bond initiative, The Virginia G. Piper Charitable Trust, The David E. Reese Family Foundation, The Kresge Foundation, and the Nina Mason Pulliam Charitable Trust, along with a host of additional groups and organizations.
Others in attendance on Thursday included Phoenix Mayor Greg Stanton, David E. Reese, whose Reese Family Foundation contributed $1.5 million, and Nancy Crase, the wife of the late Cliff Crase, and co-founder of Sports 'N Spokes magazine in 1975.
Mayor Stanton mentioned that SpoFit would help to prepare athletes for competition better than any facility of its kind.
"This is a world-class facility and I believe that this will help Phoenix attract the best and the brightest from around the country. If you are an a thlete who wants to train at the highest levels, I can't imagine that there's a better facility than this anywhere in the country."
Mayor Stanton continued by highlighting SpoFit's versatility and making clear that the taxpayers of Phoenix deserve credit for the success of the project.
"It's a statement by the people of the City of Phoenix that everyone matters," the Mayor said. "This is another way that the city can demonstrate that: to have a world-class facility of this nature. You don't have to be a world-class athlete [to benefit from SpoFit], but if you are, there's no better place to train than right here in Phoenix, Arizona."
Friday's schedule of events begins with a flag dedication ceremony, followed by numerous adaptive sport demonstrations. Visitors can watch wheelchair tennis, fencing, power soccer and sit volleyball, among others. There will be an autograph session with athletes starting at 1 p.m.
Anthony Robles, the 2011 NCAA wrestling champion and ASU alum, will be speaking at 3 p.m. on Friday. Mr. Robles's talk will be followed by live music to wrap up the day's events. Tours of the facility will also be available throughout the day.
SpoFit will play host to the Western Regional Junior Wheelchair Basketball Championships on Saturday and Sunday, February 25-26. These games are also open to the public, and the competition will start at 9 a.m. each day.
The state-of-the-art facility, which initially opened in October 2011, houses two regulation-size basketball courts, three pools, a rock climbing wall, a running track and a fitness center with fully-accessible equipment. The building's rotunda features a pictorial collage of athletes competing in various adaptive sports.
SpoFit is located at 5031 E. Washington Street in Phoenix. For more information about this weekend's events, memberships or general questions, visit spofit.org or call (602) 386-4566.