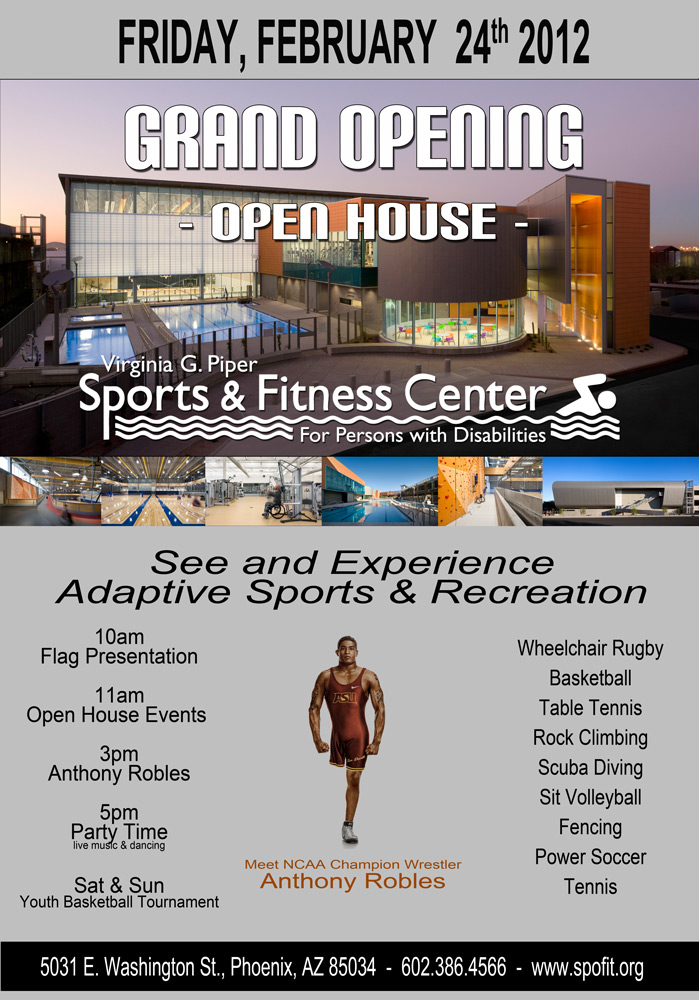 WHO:
The Virginia G. Piper Sports & Fitness Center (SpoFit), a program of Arizona Bridge to Independent Living (ABIL)
WHAT:
The SpoFit is hosting its grand opening. The public is invited to attend and experience many types of adaptive sports including basketball, rugby, tennis, volleyball, table tennis and fencing.
Live music and dancing featuring local Phoenix band, the Instant Classics
WHEN:
Friday, February 24th
10:00 AM Flag Dedication Ceremony featuring Rick Romley
11:00 AM Sports, fitness & recreational demonstrations. Facility tours.
3:00 PM Guest Speaker, ASU wrestling champion, Anthony Robles
5:00 PM Live music and dancing
Saturday, February 25th
9:00 AM Regional youth wheelchair basketball tournament
Open house tours
Sunday, February 26th
9:00 AM Regional youth wheelchair basketball tournament
WHERE:
The SpoFit is located adjacent to the Disability Empowerment Center at 5025 E. Washington St., Phoenix, AZ 85034. Physical address is 5031 E. Washington St., with parking available in DEC/SpoFit garage.
WHY
The SpoFit is unique. It is one of only two sports and fitness centers in the U.S. that is designed specifically for people with disabilities. The $12 million, 45,000-square-foot center is home to the Phoenix Wheelchair Suns and the Phoenix Fusion rugby team. Numerous local Paralympic champions and 2012 London hopefuls train at the facility. The center offers numerous recreational programs for anyone with a disability to enjoy. Memberships are available for individuals and their families.
Media Contact:
Loren Worthington
Communications & Marketing Manager
ABIL/SpoFit (www.spofit.org)
Office: 602-386-4278