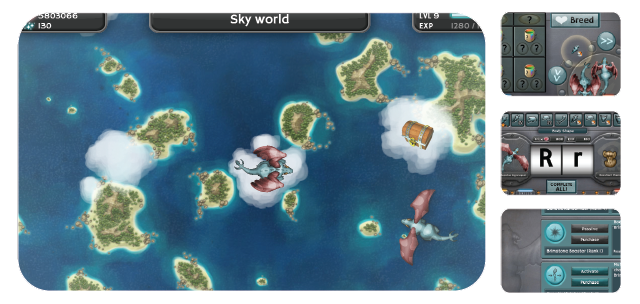 Deep within the membrane of a giant egg, an ancient and dangerous creature lies dormant - a dragon! Toronto-based educational games studio Spongelab Interactive launched today the beta its newest game Dragon Breeder - playable for free on their online platform for science teaching, Spongelab.com.
Learn about genetic inheritance as you breed dragon species, complete phenotype missions and meet monstrous creatures in a cloud-hopping sky world! Become the dragon master by breeding all types of dragons.
Dragon Breeder is a game where players progress by using the principles of Mendelian Genetics. Breed target dragons, or determine the genotypes of the dragons in your den. Purchase special skills and upgrades, and work your way through a storyline mode that will take your knowledge of genetic principles to their limit.
Based on the genetic theory of Gregor Mendel, Dragon Breeder has students using Punnett squares and other visual representations of genetic inheritence in order to complete the game while learning about complex scientific issues.
This is the first Spongelab game is built in HTML 5, and is currently in BETA for the web version. For those with tablets, iOS and Android versions are coming soon as Spongelab's engineers work on porting to these platforms. Dragon Breeder was made by the Spongelab studio in collaboration with a team of game developers at Seneca College, Toronto.
All of Spongelab's award-winning content is available for free on Spongelab's global science community. To start using all the features, animations, interactives, images and games, sign up for a free account at Spongelab.com and start playing with science.
For more information or for media opportunities, contact alex.hayter@spongelab.com