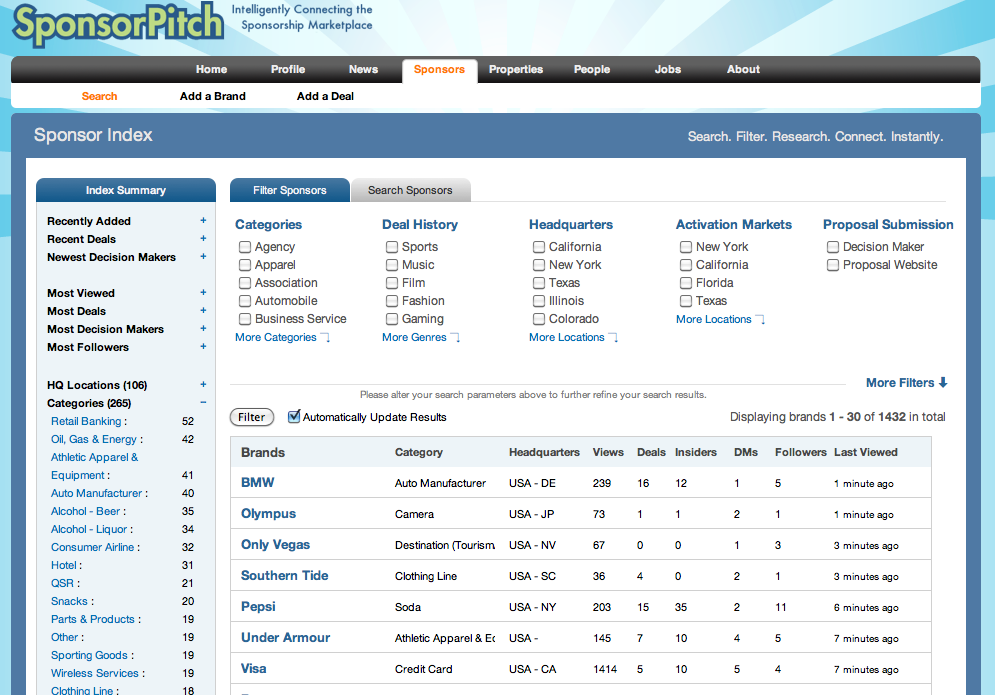 With brand marketers demanding more from the sponsorship opportunities they're pitched, SponsorPitch.com is answering the overwhelming call to help properties pitch smarter by delivering the contextual relationships and real-time research they need in today's hyper-competitive sponsorship marketplace. Major League Soccer is the latest leading sports and entertainment organization to take advantage of SponsorPitch's new capabilities by providing the service to front office executives at all 19 MLS teams throughout the United States and Canada.
"SponsorPitch is at the heart of a transformative shift that empowers people in our industry to unleash an unprecedented new level of professional efficiency. The SponsorPitch platform was built from the ground up for global organizations just like Major League Soccer and I am pleased that they will benefit from our vision about what it takes to source successful partnerships in this day and age," said SponsorPitch CEO, Kris Mathis.
Traditional sponsorship prospecting has consisted of using an amalgamation of often dated and incomplete annually published, manually researched directories and a lot of time spent individually probing difficult to reach brand organizations for information. SponsorPitch harnesses the collective knowledge and experience of its members to provide its community structured data insights on brands, their decision makers, peers that have worked with them, and sponsorship deals being done -- in seconds. SponsorPitch's groundbreaking new Sponsor Index (found at http://sponsorpitch.com/sponsors) now contains real-time information for over 1,300 of the most actively spending sponsors in the world.
"We are always looking for new and innovative ways to help our Clubs drive revenue. SponsorPitch provides a real time opportunity for our Clubs to access and gather market intelligence from their business peers," said Dave Mosca, MLS Club Development Sr. Director.
SponsorPitch allows all levels of the market to use the same information resource to gain and share insights.
"It's really cool to put my staff on the same platform being used by dozens of sales professionals from Major League Soccer. More information can only lead to better ideas and relationships," said Ilisa Kessler, V.P. Strategic Initiatives at Special Olympics Northern California.
"At a time when brands are scrutinizing every sponsorship dollar spent, it is critical to have the right conversations as soon as possible," SponsorPitch CMO, Michael Munson remarked. "This is the true power of social media for business."
About SponsorPitch
SponsorPitch, launched in 2009, is a business intelligence network for the $50 billion global sponsorship marketplace. Powered by over 5,700 active members and available at http://sponsorpitch.com, the network allows sponsorship professionals to share their career accomplishments, while researching the real-time activity of brands, properties and people throughout the industry. Headquartered in New York City, SponsorPitch currently offers real-time insight into more than 1,400 of the most active global sponsors; allowing members to qualify leads based on a variety of search variables, research qualified prospects through in-depth sponsor profiles and connect with their decision makers in a time efficient and targeted new way.