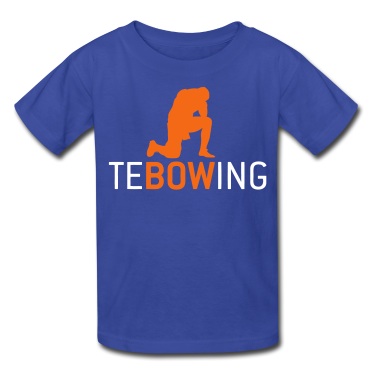 Boston, MA – When it comes to Internet phenomena, there is always something new trending. And with people in over 46 countries around the world uniting with a simple pose – Tebowing - a new craze has emerged. Inspired by the Denver Broncos quarterback Tim Tebow, Tebowing is a gesture of bending down on a knee and praying, regardless of what else is going on around you. Notable celebrities seen Tebowing include NBA Superstar Dwight Howard, former NFL players Deion Sanders and Teddy Bruschi, MLB Stars Prince Fielder and Adam Jones, Glee Star Dianna Agron, and more.
After paying tribute to the quarterback by taking pictures of himself with friends in Tim Tebow's prayer position after a Broncos win, Jared Kleinstein, a 24-year-old Denver native, dubbed the pose "Tebowing" and launched http://tebowing.com.
Since the site's creation just three weeks ago, Tebowing.com has over 8 million page views and over 1.1 million unique visitors. More than 800 pictures have been posted to the site from over 9,000 submissions – not including the pictures that have independently been shared on Twitter and Facebook.
"It's been an exciting few weeks and we are proud to have created such an exciting movement; we are incredibly happy and are looking forward to seeing where it goes from here," said Jared Kleinstein, creator and CEO of Tebowing.com
Tebowing.com is using Spreadshirt's multi-channel clothing commerce platform to create, sell and market Tebowing merchandise, ranging from t-shirts and hoodies to baby bibs, hats and dog attire (http://tebowing.spreadshirt.com/). Although it may cause some laughs, Tebowing is no joke - over 200 shirts were sold in less than 18 hours after the shop opened, and wholesale companies are already inquiring about orders.
"It's exciting to see Tebowing.com doing so well so quickly on the Spreadshirt marketplace," said Mark Venezia, VP Global Sales and Marketing at Spreadshirt. "Our priority is always to provide value to our customers and Tebowing.com is a perfect example of how we offer shop partners a quick and hassle-free marketplace that can deliver immediate results."
The owners of Tebowing.com are sticking close to their roots – with ties to the Denver community, Tebowing.com is working with local Denver charities and has pledged a percentage of all t-shirt and apparel proceeds to go towards these organizations.
Whether you are a fan or just like Tebowing yourself, check out the shop http://tebowing.spreadshirt.com/ to learn more and see the most popular designs.
About Spreadshirt
Spreadshirt (www.spreadshirt.com) is the leading multi-channel clothing commerce platform for creating, buying and selling personalized apparel. For the more than 35,000 active online shops selling around the world in 2010, the Spreadshirt c-commerce platform offers a flexible, risk-free, print-on-demand approach. Spreadshirt's fulfillment service handles everything from production and payment to shipping and customer service.
The platform provides multiple channels to bring customers' ideas to life on clothing. These channels include 3rd party e-commerce marketplaces like Amazon, white label and social media shops, and countless other applications using Spreadshirt's API.
Founded in 2002 in Leipzig Germany, Spreadshirt is a global company with Headquarters in Germany and the United States and factories in North America, Germany and Poland to allow rapid delivery to customers. Spreadshirt is proud to be named to Inc. Magazine's Inc. 500|5000 List of America's Fastest-Growing Private Companies for 2011. For additional information, visit Spreadshirt on Twitter, Flickr or Facebook.
# # #
Media Contact:
Jean Nickerson
Kel & Partners
617.904.9393 ext. 129
Jean@Kelandpartners.com