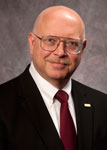 SHAWNEE, Okla. (April 5, 2012) – During a ceremony this afternoon, SSM Health Care and Unity Health Center signed an agreement that will bring Unity Health Center into SSM Health Care of Oklahoma on June 30, 2012. Terms of the transaction will not be disclosed.
Unity Health Center is a 114-bed facility with approximately 60 physicians and 550 health care professionals that has been serving the health care needs of the Shawnee, Okla., community since 1964. It is currently locally owned and operated by Community Health Partners Inc., a not-for-profit corporation governed by a 15-member board of directors.
"Unity Health Center and St. Anthony Hospital in Oklahoma City have been closely affiliated for many years," said SSM President/CEO Bill Thompson. "We also share similar cultures, as well as a similar mission, vision and values, which makes this a perfect fit."
"Bringing Unity Health Center into SSM of Oklahoma will allow us to enhance our health care ministry in Oklahoma. Unity has an excellent reputation for providing high quality care, and we are pleased to join Unity in serving the residents of Shawnee and the surrounding communities," said Joe Hodges, regional president/system vice president, SSM Health Care of Oklahoma.
"Ten years ago we created a relationship with SSM that brought the two hospitals together and helped us evolve into the exceptional organization we are today. By joining SSM, our opportunities to expand and enhance services will be even greater, thereby securing the future of health care in our community for years to come," said Chuck Skillings, CEO, Unity Health Center.
As part of the transaction, Unity Health Center will be renamed St. Anthony Shawnee Hospital.
When the agreement is finalized at the end of June, SSM will own three hospitals in Oklahoma: St. Anthony Hospital (Oklahoma City); Bone and Joint Hospital at St. Anthony (Oklahoma City); and St. Anthony Shawnee Hospital (Shawnee, Okla.). The SSM of Oklahoma network also includes two St. Anthony Healthplexes and more than 20 affiliated hospitals.
About SSM Health Care
Headquartered in St. Louis, SSM Health Care is a Catholic, not-for-profit health system with an international reputation as a pioneer in the use of quality measures to improve care. With 6,500 physicians and more than 24,000 employees in four states, SSM is one of the largest employers in every community it serves. SSM owns 16 hospitals and is located in Wisconsin, Oklahoma, Illinois and Missouri. In every region, SSM facilities forge creative relationships in the community to foster healthier people and healthier neighborhoods. Through these relationships and at its various sites, SSM serves nearly 1.5 million people annually.
###
FOR MORE INFORMATION, CONTACT:
• Chris Sutton, SSM Corporate Communications Manager
314-994-7886 (office); 314-323-5563 (cell); Chris_Sutton@ssmhc.com (e-mail)
• Sandra Payne, Network Vice President, Marketing & Communications, SSM Health Care of Oklahoma
405-272-6359 (office); sandra_payne@ssmhc.com (e-mail)
• Carla Tollett, Unity Health Center Marketing Director
405-878-8100 (office); ctollett@uhcenter.com (email)