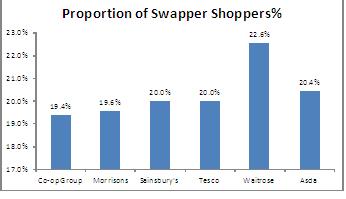 Starcom MediaVest Group (SMG) has published new research today, the Regional Shopper Risk Index in the third wave of its #SupermarketUK retail study, that shows 8.75m supermarket shoppers in England and Wales lack loyalty towards any of the big six supermarkets. Of the 45m regular supermarket shoppers, nearly 20% of these are promiscuous 'Swapper-Shoppers' who show no allegiance to Asda, Co-op, Morrisons, Sainsbury's, Tesco or Waitrose.
SMG analysed Kantar's TGI data to identify 'Swapper Shopper' behaviour in 21.1 million regular shoppers across England and Wales revealing regional variations. Waitrose has the least loyal customer base with 22.6% of its 2.03m regular customers classed as 'Swapper Shoppers' who are likely to shop with a rival. In real terms Tesco is most at risk of turncoats due its dominant market share with 3.51m 'Swapper Shoppers', the study has revealed.
?Proportionately five of the big six have around a fifth of their regular shopper base at risk with Co-op and Morrisons shoppers marginally less likely to switch allegiance than Asda, Sainsbury's and Tesco. "The study is particularly interesting as it shows a large proportion of each supermarket's shopper base is vulnerable. Supermarkets need to be aware of this and constantly work towards keeping their customers satisfied, paying special attention to high risk areas" said Thaer Namruti, Analytics Director, Starcom MediaVest Group.
At a regional level, Waitrose's woes are felt particularly in London and the South East where customer propensity to switch supermarkets is especially high. Co-op's base of shoppers in Wales and the South West are the second group most at risk of switching supermarket preference.
The Regular Shopper Risk Index also exposed differences by average weekly spend levels. Waitrose and Sainsbury's power base of London and South East is consistently at risk across all spend levels. This high risk correlates with store network reach that attracts more of its customers and therefore they have more to defend. Both have an equally loyal base in the North, with this loyalty for Sainsbury's extending across Wales and the West.
The Co-op's highest risk customers in Wales and the South West are light spenders and so moving these up the value chain to medium spenders carries significant risk. Asda followed by Tesco has the lowest risk shoppers across the board based on spend levels and so the greatest opportunity to increase shopper expenditure.
"The Regular Shopper Risk Index shows that nearly 9 million of us are 'Swapper Shoppers' with little loyalty to any of the big six supermarkets, rather like a 'swing voter' in political terms," said Stewart Easterbrook, CEO, Starcom MediaVest Group. "Waitrose has the highest proportion of potential defectors possibly due to increased sensitivity of their customers in touch economic climate coupled with a high concentration of stores in the South East and London facing tough competition. Tesco too has cause for concern with the greatest market share, the largest amount of promiscuous shoppers and so the most to defend. As the UK supermarket wars hot up, this study highlights the national and regional battlegrounds that the big six need to win to keep their tills ringing."
About Starcom MediaVest Group
Starcom MediaVest Group (SMG) is a global leader in communications strategy, media buying and management, response media, internet and digital communications. SMG London operates as the EMEA Centre of Excellence, driving change across the media industry through investment in digital, content, social media, technology, data and research.

SMG's purpose, as 'The Human Experience Company', is to transform human behaviour by creating uplifting, meaningful experiences in real time, enabling clients to forge a deeper connection with their consumers. SMG operates two separate agencies under the group banner –MediaVest and Starcom– each built around a distinct focus and expertise set, representing global brands such as Proctor & Gamble, Samsung and Honda.

SMG London picked up an Arquiva for the Kiss radio and Blackberry partnership this year and SMG was the most awarded global media agency at the Festival of Media Awards 2011, winning eight category awards and two commendations.

SMG is part of Publicis Groupe, the world's second largest media counsel and buying group, the world's third largest communications group and a global leader in digital communications. With global activities spanning more than 104 countries on five continents, the Groupe employs around 44,000 professionals. With sister agencies ZenithOptimedia, Denuo, Digitas and Razorfish, SMG is a member of Publicis Groupe's VivaKi, a global digital knowledge and resource centre that leverages the combined scale of the agencies to develop new services, tools and partnerships.

For more information, visit @SMG_London on Twitter, on LinkedIn and on emergingspaces.co.uk.
Press Contact:
Claire Ballard
Head of Communications, EMEA, VivaKi
(P) +44 (0) 20 7961 1164
Email: claire.ballard@vivaki.com