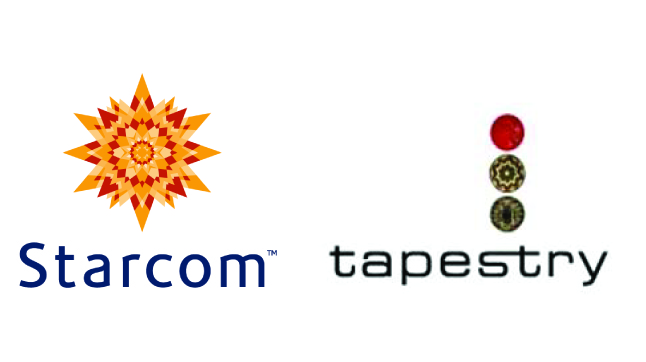 Chicago, IL and New York, NY – Media agency Starcom USA and its multicultural agency Tapestry have finalized its first 2012-2013 Upfront deal with Univision Communications, a first of its kind in the broadcast industry.
This is the largest single-agency Upfront deal ever conducted by Univision, the leading media company serving Hispanic America, and will be the first to utilize a video neutral approach, incorporating all of Univision's properties including two network broadcast networks, three rated cable channels, local TV and radio stations, and Univision's online, mobile and social video destinations.
This deal reinforces Univision's position in the same consideration set as the English-language networks, and shows that media agencies like Starcom and Tapestry are willing to open up the marketplace to allow flexibility across languages. For Starcom and Tapestry, it is a way to show that the agencies are following population and consumption trends to provide competitive advantages to their roster of major marketers, including Burger King, Mars/Wrigley and Kellogg. This is also a part of the agencies' larger Forefront strategy that aims to evolve the Upfront process into a marketplace that embodies the Forefront of human experience.
"The Upfront marketplace has the tendency to value tradition and legacy over innovation and evolution; we would rather it represent the Forefront of new thinking and approaches to reaching consumers in an ever-changing landscape of content and platforms. The main dialogue of the past few weeks in the industry has centered around the need to break down the walls between traditional TV and digital video, which is absolutely critical, and a key element to this deal," says Mike Rosen, president of activation at Starcom USA. "However, we know there are more, equally important walls that need to be torn down, including the ones between multicultural and general market, as well as one between national and local. This groundbreaking partnership with Univision Communications knocks down all those walls, including the shift of some traditionally 'general market' English language media investments to Univision."
"As English-language networks traditionally lead the pack in writing deals with major advertisers, Tapestry recognizes the importance of creating meaningful human experiences with all key audiences, including Latinos," says Danielle Gonzales, EVP/managing director at Tapestry. "With progressive and total market deals like this, Univision is poised to be real competition to English broadcasters."
"This deal emphasizes that the shift happening in the marketplace is real - one that mirrors the changing demographics of this country and the new American reality the Hispanic boom is driving," said David Lawenda, president of Advertising Sales and Marketing, Univision Communications Inc. "Starcom USA and Tapestry recognize that Univision provides an effective solution to balance their clients' media plans and deliver all target consumers in today's multicultural and bilingual nation. Univision delivers extraordinary levels of engagement with a young, tech-savvy audience and marketers are actively re-balancing their media plans to tap into the growth that only Univision offers."
The Univision Network continues to rank as one of the top five networks in the U.S. and out-delivering one or more of the top English-language networks (NBC, ABC, CBS and FOX) on nearly every single night among Adults 18-34 in the current 2011/2012 season. In fact, during the first quarter of 2012 the Univision Network drew a larger audience than NBC on four out of every five nights in the key Adult 18-34 demographic and on more than half of nights among Adults 18-49. TeleFutura remains a fierce competitor for the #2 Spanish-language network position, and Galavisión, which has been at the top of Spanish-language cable for eight seasons, continues to expand its impressive leadership margins in key dayparts and demographics. Univision, TeleFutura and Galavisión together have 73 percent market share among the Adult 18-49 Spanish-language TV audience in primetime. Univision's broadcast and cable networks, as well as its large group of local television and radio stations and growing range of interactive media options, which engage viewers more often and for longer periods of time than our competitors, deliver unparalleled engagement of U.S. Hispanics.
"This total market perspective is not only leading the general trajectory of Upfronts but it also clearly aligns with the general direction of Starcom as we move forward," says Lisa Donohue, CEO of Starcom USA. "Our human experience approach looks at more than just language or platform; it looks at the whole person and their experiences with our clients' brands. It's deals like these that will help enhance our Forefront strategy."
###
About Starcom USA
Starcom (www.starcomworldwide.com) is a world-renowned media agency that simplifies human understanding to deliver meaningful brand experiences. Starcom does this by creating the Space for Ideas, in peoples' minds and in the world, via a unique approach that gives the agency an unparalleled advantage. With over 1,200 employees and an estimated $8.5 billion in billings in the U.S., Starcom helps get the right consumers' attention and delivers brand-building results for many of the world's leading companies. Starcom is part of Publicis Groupe (Euronext Paris: FR0000130577) the world's third-largest communications group, the world's second-largest media counsel and buying group, and a global leader in digital and health care communications. With around-the-world activities spanning more than 104 countries on five continents, the Groupe employs as many as 44,000 professionals. With sister agencies MediaVest, ZenithOptimedia, Denuo, Digitas and Razorfish, Starcom is a member of Publicis Groupe's VivaKi, a global digital knowledge and resource center that leverages the combined scale of the autonomous operations of its members to develop new services, new tools and new partnerships.
About Tapestry
As the first and largest multicultural contact agency in the U.S., Tapestry provides integrated media solutions with experts specializing in Hispanic, African-American, Asian and emerging market consumers. With its team of richly diverse contact experts, Tapestry ignites a new rhythm in marketing to help clients grow brands across a wide variety of categories. Our experience spans both traditional media and emerging contact platforms including direct response, internet protocol and entertainment. Tapestry (www.tapestrypartners.com) is the multicultural division of Starcom MediaVest Group, a subsidiary of Paris-based Publicis Groupe (Euronext Paris: FR0000130577).
About Univision Communications Inc.
Univision Communications Inc. (UCI) is the leading media company serving Hispanic America. Its assets include Univision Network, one of the top five networks in the U.S. regardless of language and the most-watched Spanish-language broadcast television network in the country reaching 96% of U.S. Hispanic households; TeleFutura Network, a general-interest Spanish-language broadcast television network reaching 88% of U.S. Hispanic households; Univision Cable Networks, including Galavisión, the country's leading Spanish-language cable network, as well as Univision tlnovelas, a new 24-hour cable network dedicated to novelas, and a suite of six cable offerings - De Película, De Película Clásico, Bandamax, Ritmoson, Telehit and Clásico TV; Univision Studios, which produces and co-produces reality shows, dramatic series and other programming formats for the Company's platforms; Univision Television Group, which owns and/or operates 62 television stations in major U.S. Hispanic markets and Puerto Rico; Univision Radio, the leading Hispanic radio group which owns and/or operates 69 radio stations in 16 of the top25 U.S. Hispanic markets and 5 stations in Puerto Rico; Univision Interactive Media, a network of national and local online and mobile sites including Univision.com, which continues to be the #1 most-visited Spanish-language website among U.S. online Hispanics, Univision Móvil, a longstanding industry-leader with unique, relevant mobile products and services, and Univision Partner Group, a specialized advertising and publisher network. Headquartered in New York City, UCI has television network operations in Miami and television and radio stations and sales offices in major cities throughout the United States. For more information, please visit www.univision.net.
Press Contacts:
Rosemary Mercedes Stephanie Sipe
Univision Communications Starcom MediaVest Group
212.455.5335 312.220.4756