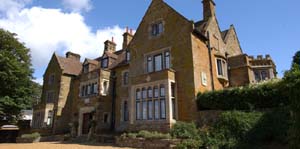 No matter how productive a meeting, nothing beats finishing it off with a refreshing pot of tea or freshly-ground coffee and a slice of delicious cake. Marking the second week of Fairtrade Fortnight, Sundial Venues' UK meetings venues are now serving Fairtrade coffee, homemade cakes in the afternoon (made with free range eggs, naturally) and reviving cups of tea all day long, whenever guests desire.
Tim Chudley, Managing Director at Sundial Group said, "Sundial Group is proud to be a family owned and run business, with more than 45 years experience in the events industry. If you're looking for a home away from home, nowhere beats the cosy surroundings of our three beautiful country house meeting venues. We have won awards for our professional management of conferences and events but do our best to make each environment pleasant to be in as well as productive. That's why you'll find lots of comfortable seating, acres of outdoor spaces and cosy nooks to enjoy a refreshing drink and replenishing slice of homemade cake whether you're meeting is taking place at Highgate House, Barnett Hill or Woodside."
Marking a departure form the often sterile environments typical of dedicating meeting and conference facilities, Sundial's two Midlands meeting venues and Surrey property, Barnett Hill have instilled a sense of family warmth into each property. These home comforts are available with every meeting room booking.
The recipient of numerous awards, including the BDRC Continental VenueVerdict's 'best value for money' meeting venue group accolade for the last four years, Sundial Group is known for its innovative approach to meeting services. Alongside its afternoon cake and Fairtrade hot drink treats, the Group also provides a selection of complete meeting packages designed to provide the widest choice and best value for meeting planners. Each package booking includes unlimited refreshments for the duration of the event.
Continuing the Fairtrade theme, a free 'green meeting package' upgrade is also offered with all complete meetings package bookings. This option includes carbon offsetting and cash back credit for those using public transport or car-sharing en-route to the venue.
For more information about Sundial Group and to enjoy coffee, cakes and an environment that is as comfortable as it is professional, please visit http://www.sundialgroup.com.
Body Text