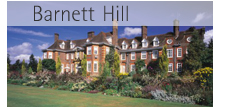 With the clocks moving an hour forwards officially heralding the start of British summertime yesterday, Sundial venues, the award winning UK meetings venues are debuting a novel way of enjoying the great outdoors while inspiring closer team bonds. The award winning meeting venues group has introduced an outdoor treasure hunt activity, specifically for those businesses who want to make the most of the weather while also investing in team bonding time.
Helping UK firms large and small enjoy the Great British summertime, the fun outdoor treasure hunts maximise the acres of sprawling gardens and woods that encircle each of its three family-owned and operated conference hotels.
Tim Chudley, Sundial Group's Managing Director said, "Our new treasure hunt activities available at Sundial Venues are the perfect excuse to take in some fresh air and enjoy our beautiful countryside surroundings while having some fun together as a team."
The outdoor treasure hunts help to build stronger team bonds and encourage fresh ideas. They are suitable for any size of team and can be used at any time of day for an hour break out activity.
Fun treasure hunts from Sundial Group are available at midlands meeting venues, Woodside and Highgate House and Surrey conference hotel, Barnett Hill. Set in the Surrey Area of Outstanding Natural Beauty, a treasure hunt at Barnett Hill makes excellent use of the 26 acres of beautiful gardens and grounds. Similarly, Sundial's flagship Northamptonshire conference hotel Highgate House offers 26 acres of landscapes grounds perfectly suited to outdoor team building. Ideally suited to larger teams, Woodside in Warwickshire boasts 32 acres of outdoor space for boosting team morale, freshening up team sprit and helping to improve the ways teams work together.
For more information about Sundial Group and its new outdoor treasure hunts, please visit http://www.sundialgroup.com.
Body Text