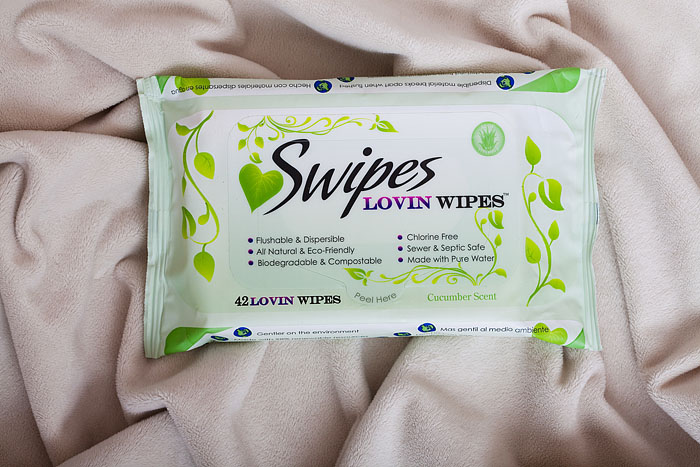 Swipes Makes Personal Hygiene Anywhere-Easy
Getting Real With Shadra Bruce
Think about it: you're in a car for six or eight hours. You're hot and sweaty. You've been using toilets at gas stations and rest stops that have who-knows-what greeting your hiney. You just want to feel fresh, especially as you approach your destination and have to greet, hug and visit with people you haven't seen in a while.
Enter Swipes Lovin Wipes®. These wipes, designed by Vera Lund, a licensed esthetician, and Maxine Gomez, a healthcare professional, to offer women an eco-friendly, flushable hygiene solution for before and after moments of intimacy. They are perfect for intimate use – pleasant smelling, more durable than baby wipes (and lacking the typical baby-wipe smell that can kill intimacy very quickly), not too harsh – and, if you're the love 'em and leave 'em type, Swipes even has individually wrapped wipes you can stow in your purse.
But if you're in need of freshness at other key moments – say, when the sweat and grime of being on the road for several hours of the day has invaded your body – then you will absolutely love freshening up with Swipes.
While they come in an unscented version, I prefer the Cucumber scent. It's light and fresh – not at all overpowering. The ingredients are simple: Purified water, Phospholipid CDM (coconut oil derived mild skin cleanser), Butylene glycol, Polysorbate 20 (wetting agent), Cucumber, Aloe barbadensis leaf juice (aloe, skin conditioner and moisturizer), Glycerin, Sodium citrate, Silver citrate, Citric acid, and Vitamin E Acetate.
In addition to using Swipes Lovin Wipes® for intimate hygiene, they're great for when you can't shower but want to feel clean. Underarms, bra lines, even the back of the neck or your face can all be soothed by a simple Swipe. They're also great for cleaning up kids' fingers and faces.
Best of all, though, this product is designed by women, for women. More than just eco-friendly, the company worked to develop a truly flushable, environmentally safe product that uses less packaging. It's not just gentle to use but it's gentle on the environment too.