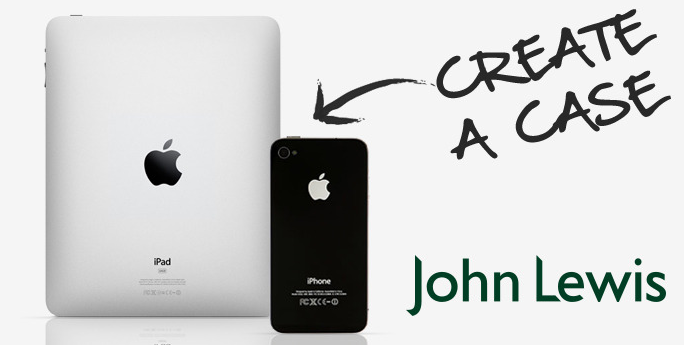 Silicon Valley - John Lewis, la cadena de almacenes más famosa del Reino Unido, se ha asociado con Talenthouse con el fin de ofrecer a un diseñador la oportunidad de producir y vender su producto en una de las tiendas más populares de Londres.

A través de Talenthouse, los diseñadores participantes deberán presentar el diseño de una funda para iPhone y iPad antes del 31 de Agosto del 2011. Los representantes de John Lewis ofrecen al ganador producir el diseño, venderlo en la tienda y obtener el 5% neto de las ganancias por la venta del producto. Como si esto fuera poco, el ganador será invitado al lanzamiento del producto en una tienda en Londres.

Los representantes de john Lewis esperan que los participantes disfruten de plena libertad creativa a la hora de diseñar el producto.

Acerca de John Lewis
John Lewis es una cadena de almacenes muy famosa en Londres, la cual empezó con la apertura de una pequeña tienda en Oxford Street hace más de un siglo. Fue una época en la que la llegada del nuevo siglo abrió las puertas para un tipo de comercio diferente en donde se dice que el secreto de este éxito fue la de compartir los logros económicos de la compañía con los trabajadores dependientes, quienes se convirtieron en propietarios accionistas.

En la actualidad, 69.000 socios son propietarios de 26 almacenes John Lewis, cientos de supermercados asociados y una tienda en línea que crece cada día más!

Acerca de Talenthouse
Talenthouse es la plataforma líder de actividad y participación en los medios sociales la cual provee oportunidades únicas a la comunidad creativa. Atraídos por el potencial de poder descubrir, colaborar y asesorar el talento emergente, reconocidos iconos de la industria y marcas a nivel mundial se asocian con Talenthouse con el fin de organizar proyectos e iniciativas conocidos como `Creative Invites.' Artistas y marcas eligen a Talenthouse como medio para interactuar con su audiencia, por ser éste un espacio relevante, enfocado y confiable.

Hasta el momento Talenthouse ha lanzado más de 150 Creative Invites con reconocidas marcas e iconos del entretenimiento tales como Paul McCartney, Rod Stewart, Nokia, Adidas, Dolce & Gabbana, Paul Oakenfold, Sequoia Capital, Rihanna, Naomi Campbell, Prismacolor, Glamour Magazine, Island Def Jam, JPG Magazine, Maroon 5, Gavin Bond, The Stan Lee Foundation, Todd McFarlane, Sander van Doorn, Rusko, Andy Moor, Kelly Cutrone, Ryan Leslie, Taio Cruz, Anne Klein y Florence + the Machine, Queen, deadmau5 y Brett Ratner.