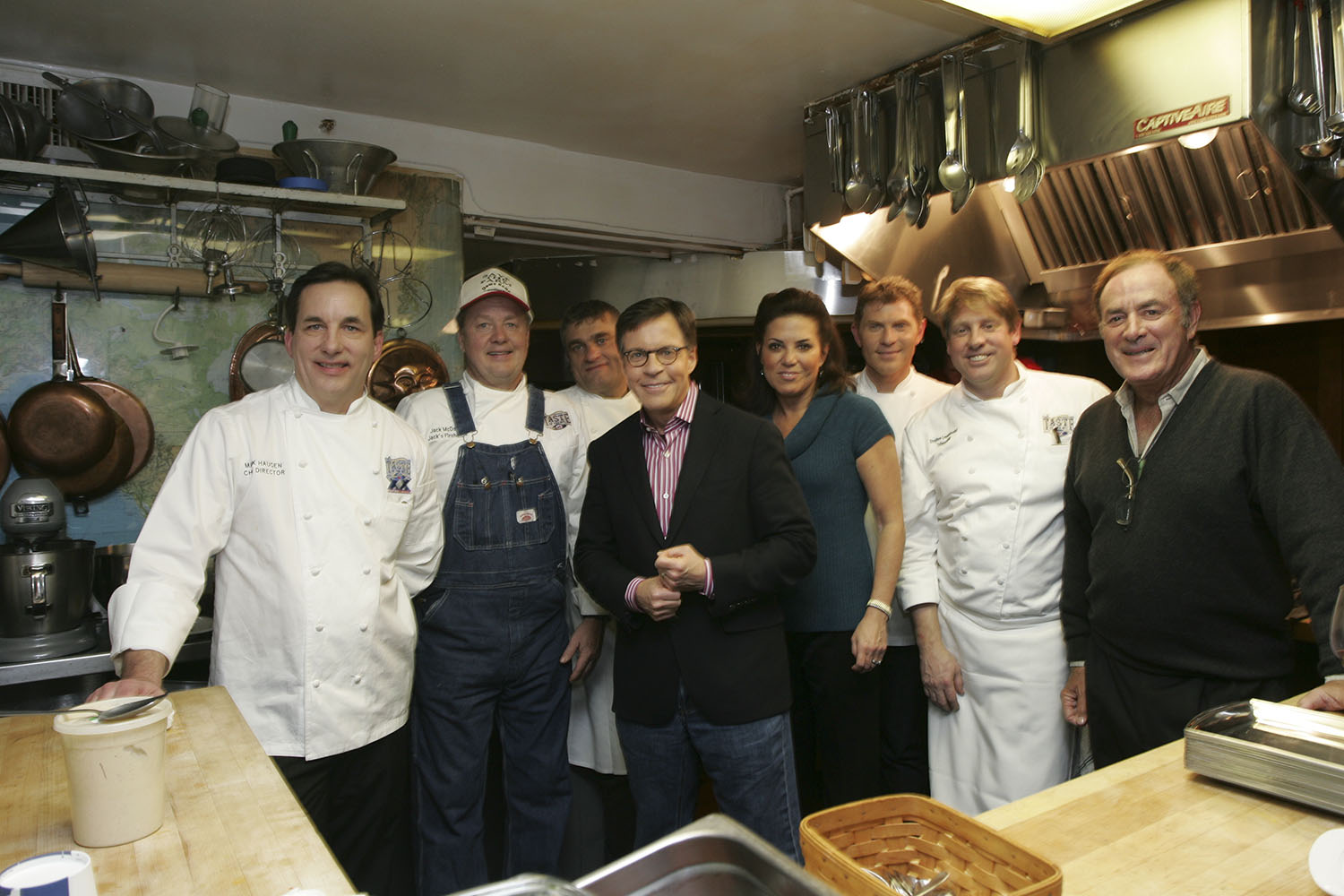 MINNEAPOLIS (Nov. 28, 2011) A cast of culinary standouts, including celebrity chef Bobby Flay, prepared a special dinner to support the James Beard Foundation and to benefit the Taste of the NFL at the esteemed James Beard House in New York City on Saturday, Nov. 19. Guests including Taste of the NFL supporters and board members as well as several VIPs from NBC Sports were in attendance at the James Beard House located in the former townhouse of celebrated cookbook author & television personality James Beard.
While the James Beard House hosts monthly events that highlight culinary artists throughout the year, this second annual dinner was a special occasion because of its added philanthropic element for hunger relief, and its support for the Taste of the NFL team and efforts. Taking place on the eve of the New York Giants and Philadelphia Eagles matchup at the Meadowlands, the dinner included of the country's best chefs who represented their teams in the kitchen for a night of charity, football and food. Taste of the NFL Chef Director Mark Haugen assembled an all-star culinary line-up including:
Bobby Flay, Mesa Grill in New York City and Taste of the NFL board member
Stephan Lewandowski, Tribeca Grill in New York City and Taste of the NFL chef representative for the New York Giants
Jack McDavid, Jack's Firehouse in Philadelphia and Taste of the NFL chef representative for the Philadelphia Eagles
Pastry Chef Stephane Motir, Tribeca Grill in New York City
"It's always fun to work together with these great chefs, particularly at the renowned kitchen of the James Beard House," said Taste of the NFL Chef Director Mark Haugen. "Their dedication to hunger relief for families in need makes all of this happen."
Members of NBC Sports, a longtime supporter of Taste of the NFL, stopped by to join the chefs in the kitchen and the guests in the dining room, including Bob Costas, Al Michaels and Michele Tafoya who is a Taste of the NFL board member.
"I think we did a good job of staying out of everyone's way so that these chefs could work their magic," said Tafoya.
"It's best to leave the cooking to these professionals, and I am sure each chef agreed, so we did just observe and report; that's what we do best," added Costas. "And also taste, of course!"
Michaels thanked the guests for their support of hunger relief in his comments before dinner was served, and encouraged everyone to find ways to continue to help others beyond the night's dinner event. Another member of the NBC team, Tony Dungy, is the Honorary Chair for Taste of the NFL this year.
"What a great time is was to see my fellow Taste of the NFL chefs, especially in this more intimate setting," said James Beard award winning chef Jack McDavid. "I know that the guests enjoyed a Super Bowl caliber menu."
About the James Beard Foundation
Founded in 1986, the James Beard Foundation is dedicated to celebrating, preserving, and nurturing America's culinary heritage and diversity in order to elevate the appreciation of our culinary excellence. A cookbook author and teacher with an encyclopedic knowledge about food, James Beard, who died in 1985, was a champion of American cuisine. He helped educate and mentor generations of professional chefs and food enthusiasts. Today, the Beard Foundation continues in the same spirit by administering a number of diverse programs that include educational initiatives, food industry awards, scholarships to culinary schools, and publications, and by maintaining the historic James Beard House in New York City's Greenwich Village as a "performance space" for visiting chefs. For more information, please visit www.jamesbeard.org.
ABOUT TASTE OF THE NFL
The Taste of the NFL (TNFL) is a 501c3 that exists to raise awareness and dollars for hunger relief organizations involved in tackling hunger in America. Proudly celebrating its 20th anniversary in 2011, the organization conducts national and local fundraising events throughout the year to raise money to combat hunger issues facing millions of Americans. Minneapolis-based Taste of the NFL has raised more than $11 million for this critically important cause and is looking forward to its 2012 event on the eve of Super Bowl XLVI in Indianapolis. For more information, visit www.TasteoftheNFL.com.
# # #