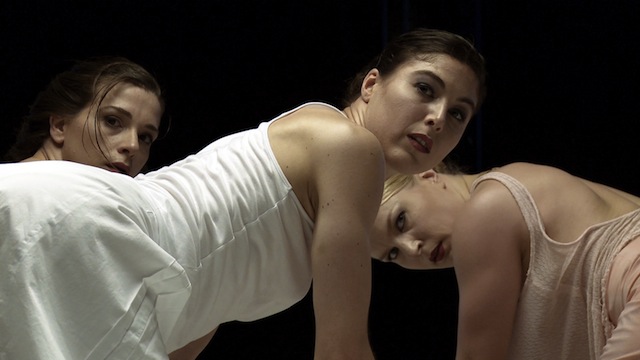 Contact: Kathleya Afanador
kafanador@tendu.tv
(212) 593-2285

FOR IMMEDIATE RELEASE

LOS ANGELES - June 16, 2011

TenduTV (http://www.tendu.tv), the leading digital network for dance programming, announced today at the Dance Camera West Festival in Los Angeles that it has acquired exclusive digital rights in its territories to The Co(te)lette Film, directed by Academy Award(r) nominated director Mike Figgis. The Co(te)lette Film will have its US premiere as part of the festival on Saturday night at the Hammer Museum. In addition, TenduTV announced the release of Essential Dance Film, a collection of festival award winning dance films from around the world, for digital download on Amazon Instant Video and CinemaNow.

The Co(te)lette Film is a cinematic adaptation of the award winning dance production, Co(te)lette, by Flemish/Dutch choreographer Ann Van den Broek. Both the original stage and film productions were performed by Van den Broek's company, WArd/waRD. "This is a film audiences won't be able to stop talking about", said Marc Kirschner, General Manager of TenduTV adding "Although the public was alerted of the potential for collaboration between film and dance through Hollywood films over the past year, The Co(te)lette Film takes this collaboration far beyond mere dancing before a camera, exposing the rawness and brutality of the dancers' performance." Said Figgis, "the basic structure [and] the ideas inherent in the piece are very strong and will benefit hugely by transferring to [the] film genre. Co(te)lette is a remarkable piece of work and it is important that it is recorded." The Co(te)lette Film will be available on demand across the TenduTV partner network on a yet to be determined date.

The Co(te)lette Film was produced by Savage Film/Red Mullet and WArd/waRD and is recommended for mature audiences.

TenduTV's Essential Dance Film is a compilation of 9 acclaimed dance films from around the world. Among the collection are 2008 Dance on Camera Festival winner, Flying Lesson, and 2010 Dance on Camera Festival jury prize nominee Little Ease [outside the box]. These 9 selected shorts range in style from ballet to butoh and the artists represent some of the most internationally renowned companies including National Ballet of Canada, Martha Graham Dance Company, Le Ballet du Grand Théâtre de Genève, Tanztheater Wuppertal, and Stephen Petronio Company. "The availability of Essential Dance Film represents the continuing fulfillment of our promise to dance field," said Kirschner, "we are proud of our commitment to provide audiences with a wide variety of dance works, with the best viewer experience possible." Essential Dance Film is now available on Amazon Instant Video at $14.99 to buy and $3.99 to rent, and on CinemaNow for $3.99 to rent.

ABOUT THE CO(TE)LETTE FILM
Ann Van den Broek
After finishing her studies at the Dance Academy in Rotterdam in 1991, Ann Van den Broek performed with several dance companies in North America and the Netherlands, among them Dansgroep Krisztina de Châtel and Charleroi/Danses. In 2000, deciding to concentrate more on her own work, she founded her company, WArd/waRD.

Van den Broek deliberately operates from a Flemish/Dutch identity. In Flanders, WArd/waRD is the in-house company of ccBerchem (Antwerp) and together they have forged a structural working relationship with Korzo Productions (The Hague) in the Netherlands. Following the success of her productions in the Netherlands, in 2008 Van den Broek started a Dutch sister foundation of WArd/waRD. Her productions E19(direction San José), Co(te)lette and I Solo Ment were nominated for the Zwaan dance prize in 2007, 2008 and 2009 respectively. She won the award for Co(te)lette. She also received the Mouson Award for 2009/2010 from the Künstlerhaus Mousonturm in Frankfurt, Germany. Aside from her work as a choreographer, she is also a teacher and regularly invited to give training courses and workshops that focus on her vision of contemporary dance and her own style.

Mike Figgis
Mike Figgis has roots in experimental theatre and music, both of which have significantly influenced his creative visions. In a career that includes just seven feature films, Figgis is known as a visionary filmmaker who thrives on taking artistic risks. While he has been at the helm of such "mainstream" movies as Internal Affairs with Richard Gere, the British born filmmaker has distinguished himself with a more eclectic personal style in films such as Stormy Monday and Liebestraum.

In 1996 Figgis achieved international critical acclaim for Leaving Las Vegas, starring Nicolas Cage and Elisabeth Shue. The film was nominated for four Academy Awards, and Nicolas Cage was awarded Best Actor for his portrayal of the alcoholic screenwriter Ben Sanderson. Less conventional projects have included Hollywood Conversations, a rare collection of discussions with people in the film industry including Tony Kaye, Mel Gibson, Michael de Luca and Brooke Shields; Timecode, a groundbreaking film shot on four digital cameras in real time; The Battle of Orgreave, a investigative film and partial reenactment of the miners' strike at Orgreave in 1984 by conceptual artist Jeremy Deller; and The Museum of the Imperfect Past, a major film-based art installation for the 2003 Valencia Biennale set over one floor in a derelict Valencian Palacios apartment block.

Figgis has directed documentaries on English fashion designer Vivienne Westwood and on avant-garde ballet choreographer William Forsythe for Channel 4 in England. Early in 2011 he directed his first opera, Lucrezia Borgia, for English National Opera.

WArd/waRD
vzw WArd/waRD was founded in November 2000 in Antwerp to allow Ann Van den Broek to realize her choreographic work. Since then WArd/waRD has (co-)produced a number of productions, including the Zwaan (Swan) nominated E19(direction San José), Co(te)lette (winner) and I Solo Ment.

Savage Film
Savage Film is an independent production company founded in 2007 by Bart Van Langendonck and operates from Brussels in an association with Eyeworks. Savage Film produces fiction films, documentaries and dance films, with subjects just as versatile as their directors' backgrounds. Always daring or playful, their projects often balance on the boundaries of genres, be it fiction, documentary or art.

Thanks to a triple slate funding from the Media Development Program of the E.U. and matching financial support from other sources (most importantly from the Flanders Audiovisual Fund), Savage Film has been able to develop and produce over a dozen film projects since 2007.

ABOUT ESSENTIAL DANCE FILM
Highlights in the collection include:

Shake Off (9 minutes, Hans Beenhakker, Holland, 2007): Filmed in one continuous shot, Shake Off follows an exceptional dancer (Prince Credell) as he moves magically through different times and spaces. The athleticism and bold surprises lure the viewer into a dynamic world that teeters between the impossible and the real.

Babel (8 minutes, Peter Sparling, USA, 2005): A former principal dancer of Martha Graham Dance Company, Peter Sparling creates a solo that would only be possible on screen. Mirroring the four-part vocal score by Arvo Pärt, he performs four physical personalities. This "quartet for one" transcends boundaries of real time and space; it reveals multiple identities of gender and characterization while charting a man's struggle to embody his own metamorphosis.

The Fantastic Flowershop (15 minutes, Pawel Partyka, Poland, 2001): Set in a flower shop at closing time, wires spin out from their spools to become small characters who pluck petals to adorn themselves and dance the night away, primarily to a Latin beat.

ABOUT TENDUTV
Called "The place to go for dance" by the UK's Guardian newspaper and the "Arts Ambassador for the Future" in The Huffington Post, TenduTV delivers dance programming through a network of nearly 70 of the highest quality digital platforms delivering video today, including iTunes, Amazon Instant Video, Hulu, BestBuy/CinemaNow, and Vudu. TenduTV hopes to empower dance artists to transport their works from the physical theater to viewers around the world, who are watching dance on over 500 million connected screens, including televisions, portable video players, mobile devices and tablets.