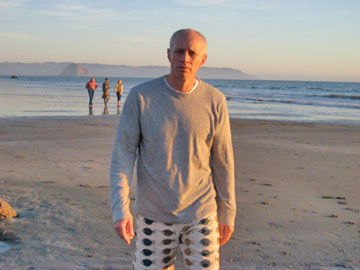 (Goleta, CA) -- Tevar (a division of Deckers Outdoor Corporation, NASDAQGS: DECK) is pleased to announce the hiring of Toshi Corbet as sports marketing manager and Mickel Tingley as new business development manager for action outdoor.

"The outdoor world is on a collision course with the action-sports world and the result will be a blended action-outdoor market that thrives in urban environments as well the backcountry," says Joel Heath, Teva's senior global marketing director. "Mickel and Toshi will help us empower this movement and engage with the next generation of Teva enthusiasts."

Corbet, formerly the athlete marketing manager for Red Bull North America, will strengthen Teva's team of sponsored athletes as community mentors and brand ambassadors within the realms of freeride mountain biking, kayaking, boardsports, climbing and surfing. He will also serve as the sports marketing manager for Teva's sister brand, Simpler Shoes.

To complement Corbet's efforts, Tingley will drive the creation and execution of go-to market strategies for Teva's new action-outdoor initiatives, which currently include sponsorship of athletes, Kokanne Crankworx freeride mountain-bike festival, Teva Mountain Games and, starting in 2012, the Winter Teva Mountain Games.

Tingley was formerly Sole Technologies Inc.'s etnies European sales manager and brand manager. Sole Technologies is a global leader in action-sports footwear and apparel brands including etnies, éS, Emerica, ThirtyTwo and Altamont.

"Mickel's experience in action sports and the footwear industry, both domestic and international, makes him a great addition to the Teva Tribe," says Jake Brandman, Teva's vice president of sales. "He will be pivotal in Teva's leap forward into the action-outdoor market."

Their joint efforts also support the spring 2012 launch of the Blue Line Collection, which merges Teva's water-performance expertise with innovative technologies. The result is a range of mountain-bike and boardsport-inspired performance footwear such as the Links and Gnarkosi, and new for 2012, the Fuse-ion classic-style sneaker, Cherry Bomb 2 kayak bootie and Bomber Flip performance flip-flop.